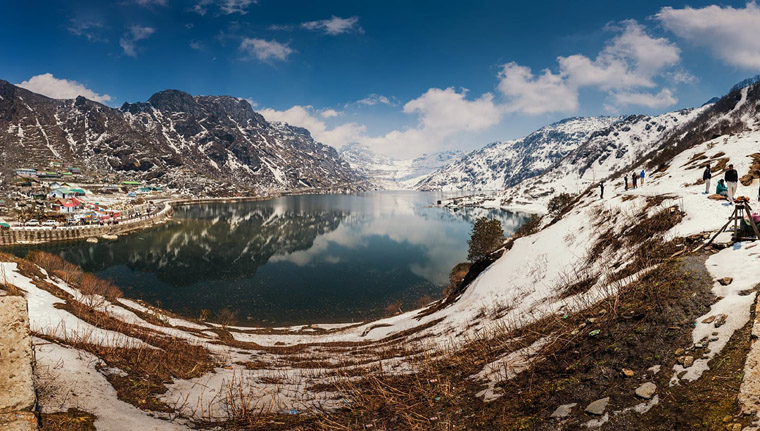 Located at an altitude of 14450ft and 58kms from Gangtok, the Nathula Pass is not only a popular tourist spot because of its surreal natural beauty, but also because it is enriched in history. The Pass is an offshoot of the Old Silk Route, connecting Sikkim to the Tibetan Autonomous Region.
This pass holds its importance as the crossroad between India and China. It passes through the Tsomgo Lake and until 1962 it served as an important trade route between Tibet and India. Tourists are allowed as far as the International Border where one can see both Chinese and Indian soldiers facing one another, on either side of the barbed wire.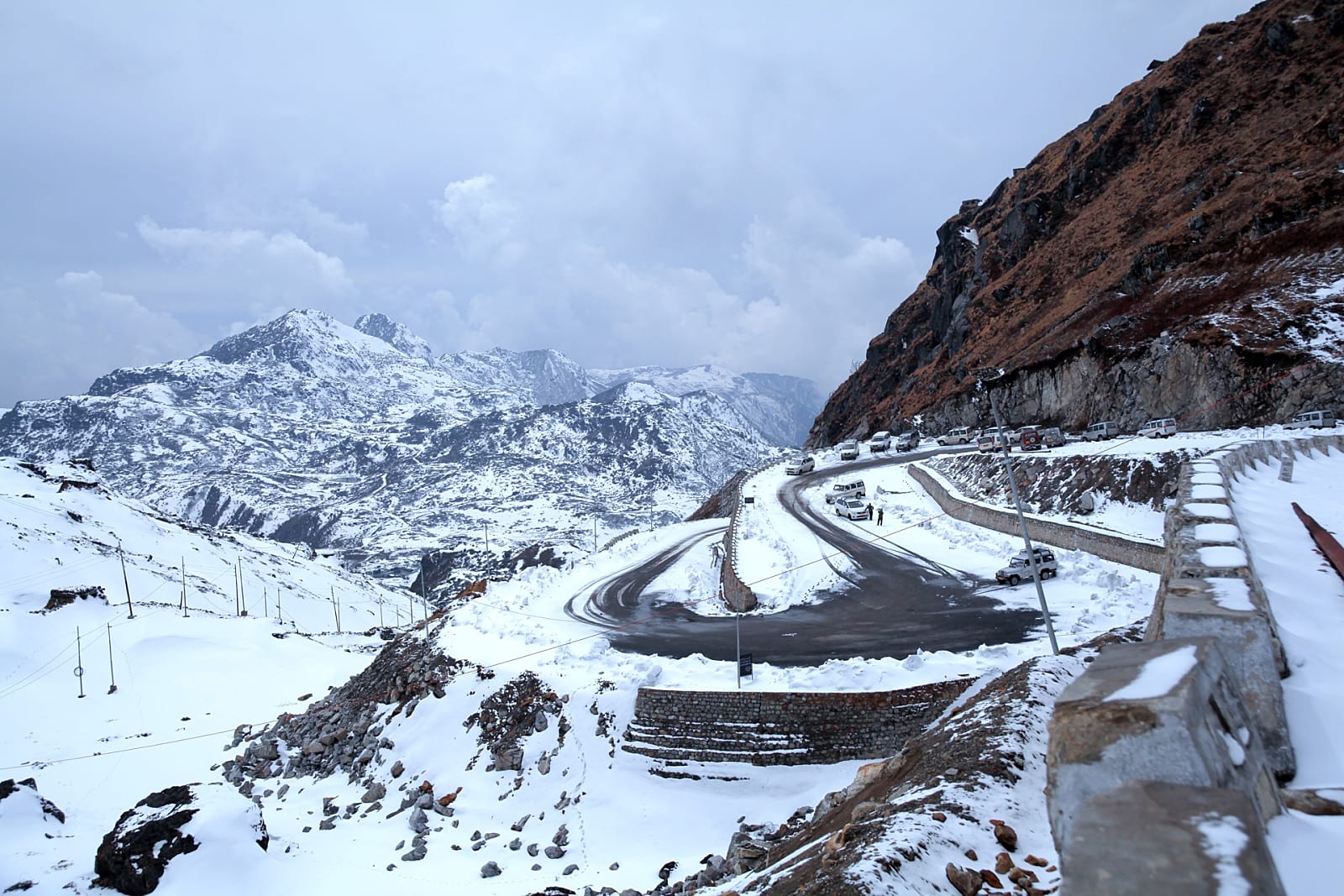 Apart from its significance in the political front, the Nathula is nothing less than paradise with its gorgeous alpine flora. With a mighty height of 4310mts, this pass makes one of the most sought after place to visit for adventure lovers. The convoluted roads of the Nathula Pass, run down to the beautiful Chumbi Valley up to Yathung which was once an important trade town.
If you face the Eastern side of the pass, on a clear day, the magnificent view of the Chomolhari peak of Bhutan won't be amiss.
Nathula Pass: Weather Temperature and Best Time to Visit
Winter:
The Pass, which is at a height of 4310m above sea level, experience extremely cold weather conditions. The temperatures here may drop to Minus 25 degrees Celsius during winter. Here, winters usually last from November to February with temperatures dropping the most from December.
The snow-covered Nathula is a wonderful sight during the winters, but survival in the cold can be quite tricky. Motorable roads might be closed for travelling due to heavy snowfall.
Summers:
The summers are cold too. However, during this time, temperatures range from 12 degrees Celsius to a maximum of 20 degrees Celsius.
Carrying woollen clothes even during summers is advisable as mountainous winds in higher altitudes, make the area chilly throughout the year.
Monsoons:
Monsoons provide bad road conditions due to heavy rains during this time. Landslides are a quite common threat during monsoons even though the routes are open for visitors.
The best time to visit Nathula would be during the summers (April-mid June) and autumn (October-November). You will find the best weather conditions in the month of September with no snow in the region and the greenery surrounding the area is at its best. You can see the snow till the third week of April. It is during May that the snow starts melting.
Visiting Days
The Pass is a protected area, is open for visitors for five days a week- Wednesday to Sunday. Mondays and Tuesdays it remains closed. However, visiting this Himalayan Pass requires a special permit while foreigners aren't allowed and photography is strictly banned.
How To Get Nathula Pass Permit:
Receiving special permit is not very difficult for the nationals of the country, as it might sound. It is produced by the Sikkim Tourism Department in Gangtok. You can also request a registered tour agency or the hotel to help you through the procedure and get the permit.
All you need to do is to submit a photo ID proof along with two passport-sized photographs. The charges are INR 200 per person and a minimum of 24 hours is required to get the permit.  Children below 4 years will not receive official permission. However, you can take them at your own risk.
Sightseeing In and Around Nathula:
The Himalaya here is breathtakingly beautiful. The alpine forests, the snow-clad mountains, the winding roads and the history surrounding it will give you sheer chills-literally too! However, apart from the natural beauty, there are a few places in and around the Pass which one must visit for a proper exploration of the region.
Baba Harbhajan Singh Mandir
The Baba Mandir or Baba Harbhajan Singh Mandir is a place of great importance in terms of tourism and is strategically located on the Indo-China border. Harbhajan Singh was an Indian Army workforce and this temple was built in his memory after his strange disappearance near Nathula in 1968.
This temple is located right at the crossroads of Kupup Gnathang Road and Menmecho Lake.
The guards and the locals believe that Baba Harbhajan Singh drowned in one of the nearby streams in Nathula and a few days later had appeared in the dreams of another fellow personnel, asking him to build a shrine in his name. And that is when the Mandir was built.
Legends say that the soldiers posted here still believe that Baba Harbhajan Singh's spirit is still alive and protects them in this difficult territory while guarding the India China border.
Mera Bharat Mahan Hill
On your way to Baba Mandir, you will find a hill which has the words "Mera Bharat Mahan" words carved on it. The sudden emergence of these three words on rugged terrain, almost at the end of the world, will leave you with a patriotic chill through you.
It's a vast area which will amaze you with the history surrounding it. You can visit this spot on the way to Nathula.
Staircase to Indo-China Border
The staircase along the steep mountain roads of Nathula leads to the International Indo-China border. The stairway is quite steep, but there are provisions for travellers to take rest.
The panoramic view of the entire Himalayan range from the stairs as you go uphill is breathtakingly beautiful.
Tsomgo Lake
The Tsomgo Lake also known as the Changu Lake is a popular tourist site in Gangtok- located on the Eastern side of the Sikkim District of Bengal. This lake is formed by the meltdown of the glaciers of the Himalayan Range.
The Tsomgo Lake is situated at an elevation of 12,400ft above sea level and its distance from Gangtok is about 38kms.
The turquoise blue water, and the floating Brahminy Ducks, of this glacial lake, look ethereally beautiful and it remains frozen during the winters. You will also find a Lord Shiva Temple next to the lake, as the Tsomgo Lake is considered to be one of the holy lakes of this region. However, visiting the Tsomgo Lake also requires a special permit.
Mandakini Waterfalls
The Mandakini Waterfalls is another must-visit tourist spot in the Nathula. This will fall on your way to the Pass.
The gushing down of the clear green waters from a majestic heightened elevation will leave you smitten by its beauty. It will remind you how magical nature is and that there's no beauty like natures.
Jelepla Pass
The Jelepla Pass is another most popular and important spot for tourist visit in Gangtok. This is a high mountain pass with an elevation of 13999ft. This Pass is of great significance as it forms the connectivity between Sikkim of India and the Tibet Autonomous Region of China. The Jelepla Pass falls on the route which connects Lhasa to India.
The Jelepla Pass nestles the beautiful flowing Menmecho Lake below it. The route to Jelpla is beautiful, adorned with vibrant rhododendrons and small quaint hamlets along with the panoramic surrounding.
Visiting this special place and also visiting the surrounding tourist's spots will be an experience of a lifetime. The abundance of nature's beauty along with historical significance will mesmerise you. The surreal and ethereal charm of the region will fill your heart and soul and leave you with a sense of fulfilment. So if you are looking to escape the regularities of daily life go ahead and plan an adventurous trip to Nathula!
Every bit of the experience is worth it.
How to Reach Nathula Pass?
Once you are in Gangtok, from there you can book a round trip tour package with a local authorized tour operator. You could ask for some guidance from the hotel you are staying in, regarding this. Nathula is located at a distance of 56kms from Gangtok and is situated on Jawaharlal Nehru Road.
A trip to Nathula from Gangtok usually takes a full day. Which includes sightseeing in and around Nathula-mainly the Tsomgo Lake and the Baba Mandir. However, make sure the vehicle you are travelling in is from an authorized tour operator and approved by the Sikkim Government. Vehicles which are not approved are not allowed in Nathula.
During the high tourist season, i.e. between May to September, tour operators usually operate in groups and the rate is calculated on the basis of each person. This comes down to a reasonable expense. During the off-season, the availability of vehicles is less due to lack of demand. If you are visiting Nathula during the offseason, then sharing a vehicle might be a difficult option.
Travelling to Nathula during the winters is anyway a not wise choice. Due to the poor road conditions and frequent occurrence of landslides due to snowfall. All of this can lead to road blockage.
Vehicle Fare 
As mentioned earlier, make sure that the vehicle you are travelling in from Gangtok to Nathula Pass is authorized by the Sikkim Government. Saying that the vehicle fare depends on which season you are travelling to Nathula. The rates are higher during the peak tourist season and lesser during the offseason.
The cost for each person in a shared vehicle is usually INR 900/- to INR 1000/-. This rate includes your visit to Tsomgo Lake and Baba Mandir and also the cost for your permit. If you wish to reserve and travel by yourself and with your group only, then the fare is usually INR 8000/- for big cars like Jeeps and SUV's. If you choose to reserve vehicles like Sumo or Xylo, the fare is usually INR 6500/-. These rates too, are inclusive of all the permits required.
Nathula Pass Suggested Tour Plans:
Visiting Nathula and sightseeing the tourist spots in and around it, is usually done in a day's excursion. There aren't many hotels to stay in here. However, there are places near Nathula where you can stay a night.
Tour Plan 1: 4 Day Tour Plan
Day 1
Reach Bagdogra or New Jalpaiguri Station. From there book a sharing cab or an exclusive ride to Gangtok – which is about 120kms with a travel time of four hours. Check into the hotel. After a few hours rest you can do some local sightseeing in Gangtok along with visiting some local market places and eateries- as per your choice. Stay the night in Gangtok. Also, get in touch with your hotel staff and authorized tour operators for seeking the permit to visit Nathula Pass.
Day 2
After breakfast, leave for Nathula Pass. From Gangtok, the distance to Nathula is about 56kms and should take a travel time of 2 hours. Spend the entire day at Nathula and visit the popular tourist spots in and around it – the Tsomgo Lake, Baba Mandir, Jelpla Pass etc. Come back to hotel and rest of the day is free. Stroll around in Gangtok and have a good restful time.
Day 3
On the third day leave for a local city tour. Go for sightseeing spots in and around Gangtok. You can also choose to have a peaceful day in Gangtok visiting local quaint cafes and restaurants- enjoying some quiet time with yourself and your loved ones.
Day 4
Leave for Bagdogra or New Jalpaiguri Station as per your train or plane schedule.
Tour Plan 2: 3 Day Tour Plan
If you are in a little hurry for a quick weekend adventure, you can also cover Nathula Pass in 3 days. However, this tour plan can be a little hectic. But, a once in a lifetime experience like this, is all worth it. Here we have a tour plan ready for you if you have only three days in your hand.
Day 1
On your arrival at Bagdogra or New Jalpaiguri Station, immediately leave for Gangtok. Book a car on sharing-basis or an exclusive ride. Time taken to reach Gangtok is about 4 hours to try and reach before sundown. Once you reach Gangtok, check-into your hotel. The rest of the day you are free to roam around Gangtok at leisure. Look around for permits to Nathula Pass- get in touch with authorized tour operators to Nathula. Stay the night in Gangtok.
Day 2
Leave for Nathula Pass soon after breakfast. It usually takes 2 hours to reach Nathula from Gangtok. Enjoy your day at Nathula and do the important sightseeing in and around the area. Leave for Gangtok, so that you reach the hotel again before sundown. You can also choose to stay the night in Nathula in a hotel near the area.
Day 3
This might be a long journey if you are staying the night in Nathula. Check-out from the hotel and come to Bagdogra or New Jalpaiguri Station with enough time in your hand. This might be a 6-hour long journey.
If you are staying the night in Gangtok then there is nothing to worry. Check out from your hotel as per your train or plane schedule.
Hotels and Homestays in Nathula Pass:
As mentioned earlier, there are no provisions for tourists to stay at Nathula. The nearest resorts, hotels and homestays are available in Gangtok. So set your base in Gangtok and experience the wonders of Gangtok, Sikkim. Gangtok is approximately 56 km and hence Nathula Pass and sightseeing spots around it are usually done in a day.
There are a number of budget accommodations in Gangtok providing guests with all basic amenities and good food.
If you want a luxurious stay in Gangtok, such accommodations are available too. You can choose to stay in the central part of the city where cars and cabs are easily available for local sightseeing. There are also quaint accommodations in the nooks and corners of the mountain where you will get all the peace and privacy you are looking for – amidst the serene and tranquil nature.
So whatever your choices and requirements are, ample of options are available for you.
We at Nomadic Weekends help you to chalk out your tour in a very personalized and customized way. We provide you with all the itineraries and how you should plan your tour as per your schedule.
Our client requirements are our priority and we do not compromise on how you want your tour planned. We are travellers and adventurers just like you. Get in touch with us and we will help you out with the most memorable and priceless experience ever!
You can check these stay options in Gangtok to complete your Nathula Pass visit
We at Nomadic specialize on trips in the North-Eastern parts of India. We send thousands of people to Noth Sikkim Trp every year. You can get a quotation and free consultancy from us.
In case you want to know about North Sikkim: North Sikkim Tour Plan
If you want us to Plan your Sikkim Trip. Click Here
We are retired, corporate people. So, we have taken a lot of stress and we understand what a holiday means to you
We have a team that is travelling on the streets of Darjeeling to find out great stay options
We have ourselves experienced these places and we can guarantee a great stay for you
Unlike others, we are never about dhobi list of options. We are the shortlist by the travellers just like you.
Why Go Nomadic? 
Away from super congested tourist places
Close to nature
Mindblowing locations
All modern amenities
Perfect Chillout. Guaranteed.
Check out Nomadic Weekends site here for more.