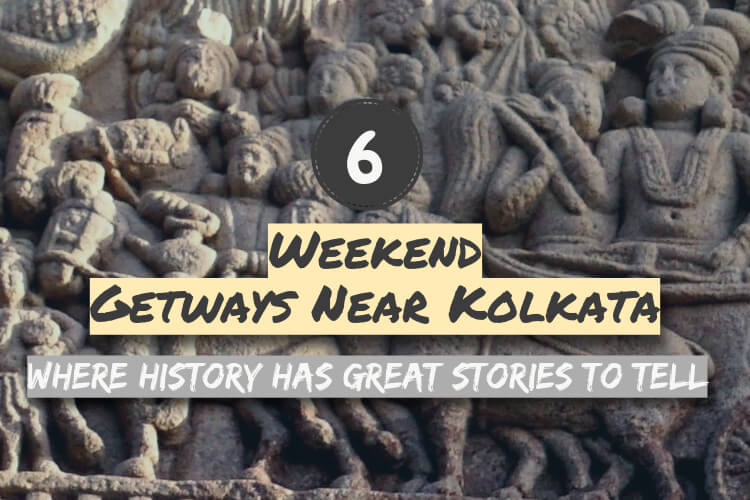 In a diverse country like India, which has been a melting pot of culture and tradition since ancient times, the true spirits of the nation can only be understood through history. Weekend getaways to a historical place helps one to relate to the history of the place and hence get a much deeper understanding. With understanding history of the place you can understand the nature and relate in a much more wholesome way with the place and the people.
Few weekends to a historical place may help to step back bit from the mad pace of life and have a big picture view of the things around.
Kolkata was always in the heart of history for last few centuries. Hence there is no dearth of places scattered around our city of joy. 
Here we make a list of six such great weekend getaways near Kolkata, which are bubbling with great stories to tell.
You can probably keep in your bucket list of weekend getaways near Kolkata.
01 – Takdah; Weekend getaway to history and nature

Takdah Short History: 
Surrounded by misty roads and pine forests, lies Takdah. In Darjeeling district of West Bengal, one of the early British settlements in the peaceful Darjeeling hills that have seen many British Colonial settlements and reward postings of many high ranking officials of British administration in India.
Started as a military cantonment in the early 1900s, this place has its treasures hidden in bird songs, fountains and examples of fine classic British architecture. With the great and typical British accommodations comes typical British service etiquette.
In British Royal Bungalows, mostly 125-150 years old establishments, one can expect unmatched luxury and comfort. You may relax and feel the nature while sipping on a cup of special Darjeeling tea from the local tea garden and gaze into the majestic forest region of Darjeeling.
Nearby Attractions:
Few places which must be visited once you the Himalayan beauty are:
A sacred monastery located in Takdah
Dechhen Pema Tshoiling Monastery
Durpin View Point
Peshoke Tea Garden
Tinchuley and Lamahatta
Sonpur Palace
Runglee Rungliot, Takdah Tea Estate
Dokan Dara
Barbatey Bridge
Magnificent views of the Kanchenjunga Mountain
To understand more about Takdah Region Click on Takdah Map
Places to Stay In Takdah:
Takdah Heritage Bungalow is a unique and picture perfect property with a history that goes back till 150 years!
It is a wonderful property with a rambling lodge, very much kept up wooden floors and roof, luxuriously based on a profound pine forested slope. The rooms are open, each with a sitting territory and vast washroom and the suite has a chimney that works.
Stroll down 1km to the market in the event that you wish or walk around the way into the forested areas simply behind the cottage, or laze under the umbrella in the garden with the puppies – Time stops here!
If you want to Know More about Takdah Heritage Bungalow or Book a Stay  Click Here 
Brits used to love Takdah. Many of their buildings and cantonments are still present there and couple of them are still as royal and well maintained as before.
This Royal Bungalow, is one such almost 125 old British Royal Bungalow in Takdah that offers unmatched luxury and comfort .
Great views, great weather, royal heritage bungalow and old world warmth will surely make your visit memorable.
If you want to Know More about British Royal Bungalow or Book a Stay  Click Here 
02 – Murshidabad; Feel like the Nawab's over this weekend getaway

Murshidabad Short History: 
The name 'Murshidabad' originates from the place known as "Muksudabad" which was the capital of Bengal amid Murshid Quli Khan's rule.
Long before British came to India, the city of Murshidabad was the capital of Bengal. It has an incredible value in the Indian History as in 1757 the British won over Siraj– ud– Daula in the Battle of Plassey. After which the whole country was brought under the British Colonial Rule.
Certainly, even after British took over Bengal, Murshidabad stayed the hot bed of politics for a long time.
The town still bears recollections of Nawabs with mosques, tombs, and gardens. Murshidabad is also the hub of cutting edge designs on Ivory, gold and silver weaving.
Murshidabad is also known for its world standard silk productions famously known as Murshidabad Silk.
Nearby Attractions:
Nizamat Kila (the Fortress of the Nawabs) otherwise called the Hazaarduari (Palace of a Thousand Doors)
The Moti Jhil (Pearl Lake)
The Muradbagh Palace
Khushbagh Cemetery.
To understand more about Murshidabad Region Click on Murshidabad Map
Places to Stay In Murshidabad:
The capital of the last independent rulers – the Nawabs of Bengal, Murshidabad started as a port and then flourished into her glory days.
The Nawabi architecture in the royal palace as well as the house of many wealthy merchants who once nested in this place still show the grandeur of its past, which began to dwindle when the capital was transferred to Kolkata after the victory of British East India Company in 1757.
Murshidabad Rajbari is a remnant of those past glories, as it was the house of Ajodhya Ram Roy and his son Dinobandhu Roy, one of the biggest silk merchant and exporter in that era.
With huge courtyards and gardens, gothic-Indian architecture and arches, "Jhar"-lights and temples, this place will certainly leave with the taste of living the Nawabs life till you stay there.
You may also want to visit this place to relish the bygone Royal era experience.
You can also go for a short trip of nearby royal palaces, forts, mosques or go shopping for the beautiful Murshidabad silk.
If you want to Know More about Murshidabad Rajbari or Book a Stay  Click Here 
03 – Jhargram; Be the kings guest on this weekend getaway

Jhargram Short History: 
Jhargram as a city, was established around 1592 AD by Sarveshwar Singh who alongside his senior sibling were Generals under Raja Man Singh of Amer. They came to overcome Bengal when Emperor Akbar conceded Subehdari of Bengal, Bihar and Orissa to Raja Man Singh.
Sarveshwar Singh crushed the neighborhood Mal rulers who were ruling over the district known as Junglekhand. As a reward, Raja Man Singh of Amer, allowed mansabdari of the whole area of Junglekhand to his triumphant officers Sarveshwar Singh. He started acting as a outpost to Mughal Emperor Akbar.
He then named his capital Jhargram which implies a village encompassed by profound forests, consequently the leader of Jhargram expected the title "Malla Deb".
Between 1742-47, the leaders of Jhargram battled three fierce wars against the Maratha intrusion with the aid of the King of Bishnupur and the Nawab of Bengal.
In 1799, the ruler of Jhargram, rebelled against the East India Company alongside king of Bishnupur and others and the revolt was named as Chuar Mutiny.
The kingdom had its golden period amid the rule of Raja Narasingha Malla Deb, he formed Jhargram town into a cutting edge planned township and appointed the new Palace in 1931.
And, guess what? We arrange your stay in that palace itself. 🙂
Nearby Attractions:
Kanak Durga Temple
Chilkigarh Raj Palace
Kendua village tour
Medical Plant garden
Eco-Tourism Centre & Tribal Museum
Jhargram Mini Zoo
Jhargram Raj Palace
Sabitri Temple
To understand more about Jhargram Region Click on Jhargram Map
Place to Stay In Jhargram:
In the midst of Belpahari hills, Subarnarekha, Kangshabati, Jhargram has a rich cultural and historical heritage along with the undiluted form of some of the oldest tribal traditions co-existing with the major communities.
The Royal Heritage Palace Jhargram offers a chance to experience first-hand the glorious royal hospitality. This place is still  the current resident of the Malla Dev Royal Family, the rulers of the land since late Mughal period.
The gothic architecture of the palace, the carefully laid gardens, the local cultural experiences and local temples, sacred groves and a chance to encounter with the wildlife make this an unforgettable experience.
If you want to Know More about Jhargram Rajbari or Book a Stay  Click Here 
04 – Dhenkanal Rajbari; A weekend getaway to history and adventure

Dhenkanal Short History: 
Located towards the middle of Odhisha Map, Dhenkanal is small town and surrounded by beautiful wild lives and forests.
The District is situated on NH 55 and on the Cuttack-Sambalpur or Baranga-Sambalpur railway line.
It is commonly believed that the Dhenkanal got its name from a ancient king named 'DHENKA' who formerly ruled over in this area. It has a vast area covered with dense forests and a long range of hills.
Dhenkanal is also commonly called as the district of 'Home of Elephants and tigers of the country'.
Nearby Attractions:
Kapilas : 
The peak of Kapilas hill range enshrines the temple of Lord Shiva
Joranda : 
Famous as the religious headquarters of Mahima Dharma, Joranda houses the samadhi of Mahima Gosain, the preacher and propagator of the Mahima Cult.
Saptasajya: 
A wonderful hill forest range
Dandadhar :
Artificial dam with a large lake
Naganatheswar Temple:
Ancient Shiva temple with rich history
Kualo: 
Famous for housing a plethora of temples dedicated to Lord Kanakeswar, Baidyanath, Paschimeswar, Balunkeswar and Kapileswar.
To understand more about Dhenkanal Region Click on Dhenkanal Map
Place to Stay In Dhenkanal:
Dhenkanal Rajbari, was an exclusive hunting mansion of an Indian King hailing from Panchkot dynasty of West Bengal. This is  close to the main city Cuttack and just a one and hanf hour drive from Cuttack. Situated near the forest and hills of Dhenkanal range with a scenic backdrop, this Rajbari really carries a long history with itself.
It is a royal palace built way up on Megha hills.  It overlooks vast stretches of forests, scattered with small tribal villages. The view from the palace is incredible. And the place teeming with wild life – birds, elephants, deer, civets, monkeys and wild boars etc.  If you are lucky you might get to see a leopard too.
Old kings decedent Jitendra Singh Deo and daughter in law Navneeta turned their age old home into a holiday destination to share their experience of mysticism of royalty set in the heart of nature. The food that comes from the kitchen is local and comes from the organic farm along the house.
In its totality the places gives a taste of bygone era, both in terms of royal luxury, kingly hospitality and a nature that generally get in our city lives.
If you want to Know More about Dhenkanal Rajbari or Book a Stay  Click Here 
05 – Lava; A weekend getaway to the history of the most expensive tea in the world

Lava Short History: 
Lava is situated at an altitude of 2,350 meters. It is surrounded by virgin pine forests and often hidden in mists and clouds, this town is close to Kalimpong on the old trade route to Bhutan.
It has a beautiful monastery of Bhutanese origin and a Nature Interpretation Centre. Popular with the nature lovers abd bird watchers, it is also the starting point for treks into the Neora Valley National Park, which is the only place in the world where endangered Red Panda can still be spotted.
The weather and geographic position of Lava is ideal for tea production and it helped this region to become the producer of most expensive variety of Darjeeling teas that the word swears by.But among many such tea estate, a special one marked it name as the most expensive tea in the world. The Samabeong tea estate.
And Nomadic Weekends Lets you be the guest of this super special tea estate with a free factory visit to world's most expensive Tea.
Nearby Attractions:
Sherpa view point and Tiffin Dara
Nature Interpretation Centre
Lava Jamgyong Kongtrul Monastery
Neora National Park
Rishop
Kolakham
Chhangey fall
Gumbadhara
To understand more about Lava Region Click on Lava Map
Place to Stay In Dhenkanal:
The Lava Tea Estate, happens to be one of the highest organic tea gardens in the world. The history of this tea estate goes back to 1882 when the Estate was established by the British; it has seen a change of hands many times since.
In the mid-1980s, acquired by a legendary planter this places started to see its hay days. With the support of the local communities, the estate has blossomed into one of most expensive tea producers of the world. The place also became a hot bed of biodiversity where the organic agriculture blossomed.
This tea estate remains as a testimony of luxury tea tourism and lets you peak into the history and secrets of making most expensive tea in the world. Do not miss this place.
If you want to Know More about Lava Tea Estate or Book a Stay  Click Here 
06 – Cuttack Jungle Fort; A weekend getaway to historical wilderness 
Short History: 
Not long ago, this country was known as the land of kings, their dynasties and its Tigers. Each one dominating their own territories and ruled them for centuries. Their legendary relationship of appreciation and duals continued until India became independent to form a Republic nation. Things were never to be same again. The kings lost their kingdoms and the Tigers lost their jungles.
That thrilling world and glamour remains one of the most captivating fantasies of the modern world. Most of such legacies have been engulfed by our so called civilization.
Only a very few ancient families and their properties remain to tell stories of that glorious history, its royalty, its heritage and its nostalgia.
Cuttack Jungle Fort is certainly one of there rare ones.
The Place to Stay :
If you are one of those who would seek for a Royal experience that goes just beyond luxury and to the realm of real thrill of being kings guest in a hunting outpost, then this is the perfect place for you.  At the first look, you may pass it off as one of those offbeat resorts which are scattered all over the Indian landscape.
Stop your search and take a closer look, go deep because you will be really surprised by this one. This sublime heritage homestay will take you to new level of that experience you were hungry for in every way, be it their family heritage, culture, food, rural lifestyle, wildlife, nature walks, tribal life, village haats, birdlife, Angling and much more.
Tucked away in a very remote corner, very close to the Cuttack, is this property is just a hours drive from Cuttack city.
The kings son, the price will be there to greet you with his family. Can you really miss it?
If you want to Know More about Cuttack Jungle Fort or Book a Stay  Click Here 
To book any of the 6 awesome places discussed above or to know in greater details Call 9163428385 | 9007224814  or mail at info@nomadicweekends.com
If you are looking for weekend destinations not so far and for one night short trips, here is a list of 25 Weekend Destinations Near Kolkata that is great for one night short trips.