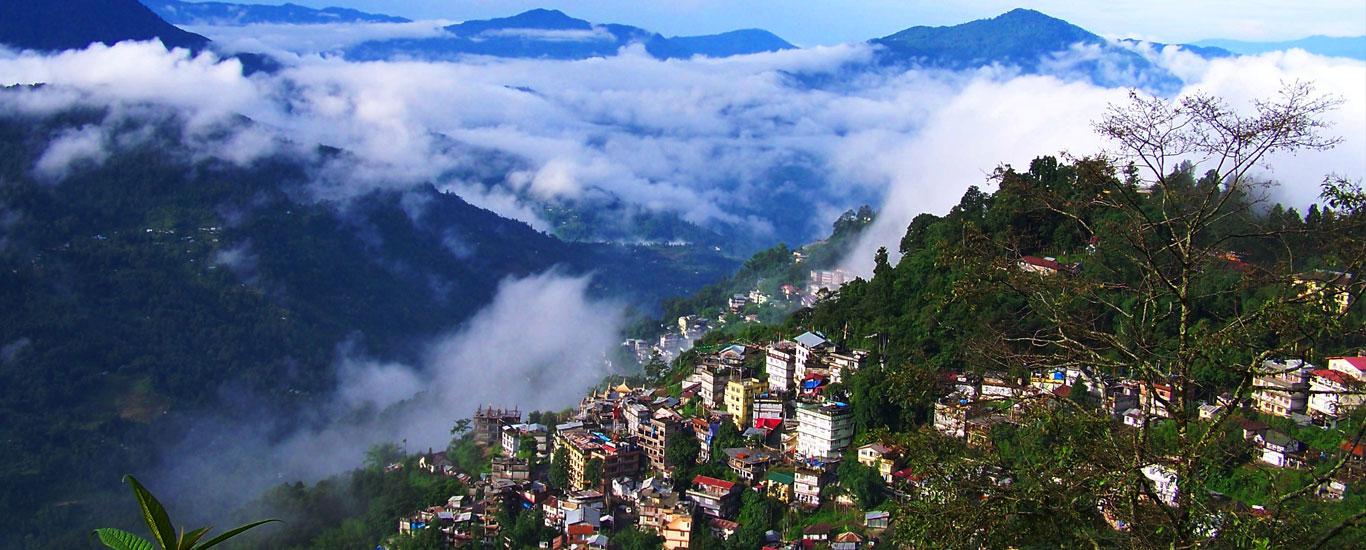 Kalimpong is around 50 Km on the east side of Darjeeling and is located at an altitude of 1200 metres above sea level. This place was once a trade hub between India and Tibet.
This dates back to the time when merchants would ferry trade goods on mule caravans that would run over the Sikkim-Tibet border pass.
There are a number of places for sightseeing and although this might not be as bustling as the town of Darjeeling, it still attracts a large influx of tourists every year.
The small hilly town is beautifully ornamented with well-manicured gardens, natural lakes and majestic mountain ranges. There are unlimited options for adventure, food-hunting and temple exploration.
Weather, Temperature and Best Time To Visit
It has five distinct seasons and they are Spring, Summer, Monsoon and Winter. There are generally no extremities of temperatures and day weather is pleasant all through the year while nights tend to feel cooler.
Summer months witness a temperature range of 16 degrees C to 25 degrees C. Winter months experience a drop in temperature and the range varies between 7 degrees C and 16 degrees C.
There is an average of 100 days in a year when it rains over here.
Spring Season
The two months of spring are March and April. The range of temperature in these months varies between 11 degrees C and 24 degrees C. The skies are cleared in the spring season and there is minimal rainfall during this time.
You can experience uninhibited views of the mighty Himalayan ranges in spring. Since this is the most preferred season to visit, you will have to make prior bookings on hotels.
Summer Season
The summer season here lasts from May to June. This is when tourism peaks in the town and hotels are usually packed to their fullest capacities. The maximum temperature never goes beyond 25 degrees C in summers and the minimum temperature is always within 16 degrees C.
While it might not rain much in the month of May, June tends to receive around 15.6 inches of rainfall. It might rain sparingly in June.
Monsoon Season
The prime monsoon months are July, August and September. July is the wettest month of the year and experiences rainfall up to 22 inches. The amount of rain decreases in the months of August and September. Tourism temporarily halts in the monsoon season because of landslides and blocked routes.
However, you might still find some tourists making trips to this place, especially in the monsoon months, to witness the lush green beauty of the town and the adjoining tea estates.
Fall Season
The two months of October and November are fall season. Rainfall is at its lowest in these months. Skies are clear and visibility is fantastic. You can view the majestic mountain ranges clearly without mist and fog clouding your view.
This is yet another peak season for tourists. The temperature is ideal in these two months and is a great time to be in this town. The temperature ranges between 11 degrees C to 22 degrees C.
Winter Season
Winter lasts from December to February. The minimum temperature in winters is around 7 degrees C and the maximum average temperature is around 16 degrees C. However, skies are clear and visibility continues to be great in the winter months as well.
Although the temperature is never really extreme in the winters, the footfall of tourists generally goes down in this season. You will find great bargains and good deals on hotel bookings with us from our list of winter packages that we offer.
How to Go to Kalimpong ? from Siliguri | New Jalpaiguri | Bagdogra 
This place is 68.3 Km away from Siliguri and Bagdogra. It takes around 2 and a half hours to drive from Siliguri. From Siliguri, you will find a number of transportation options to reach there. Both private and shared taxis are available throughout the day.
You will also find buses plying from Tenzing Norway Bus Terminal on Hill Cart Road in Siliguri.
The journey from Siliguri is mesmerizing. In the first half of the journey, you will travel on NH10 through the Mahananda Wildlife Sanctuary. The forests are dense and form a natural habitat for many wild animals like tiger, bison and elephant.
Among many sights and sounds of the forest, you might spot a deer fleeing past your jeep, a majestic elephant crossing the way in front or a bison walking away unperturbed by the intrusion of humans. Your driver will be careful not to honk in this part of the journey so as to maintain the calm and composure of the sanctuary.
At Sevok, the sanctuary will give way to a massive river basin, hilly terrain and a boisterous Teesta River. The forested landscape will transform into a hilly area with sharp turns and hairpin bends. You will cruise alongside the river at varying altitudes.
The last phase of the journey begins from Teesta Bazaar. A sharp turn uphill from this point will lead you to the town. You will no longer be able to view the Teesta River when you are around the town.
We're ready to help you with planning your Tour. Enquire Now.
Where to Stay in Kalimpong?
Hotels: 
This city welcomes thousands of tourists each year in the peak seasons. It goes without saying that the hill station is dotted with hotels and homestays of all types and budget ranges. You will also find comfortable inns to put up at. These inns are surrounded on all sides by mountains and dense forestland. However, they are also equipped with all modern amenities.
If you want to opt for luxurious stays, then you could choose from 3-star hotels that have lavish rooms with a view, express service, car rental services and all the latest amenities and rooftop restaurants to dine in. These hotels also offer facilities like a swimming pool, a spa and themed resto-bars.
Some of you might also be looking for exotic places to put up at. If you are a newly married couple or a close group of friends out on a vacation, you will surely need privacy and a great location. There are some hotels that are designed in the form of private cottages and are located in the most exotic places.
These cottages offer excellent views of the valley and the surrounding greenery while also keeping your privacy intact.
We at Nomadic, travel the length and breadth of every city to find out the best accommodations for you. Our team scores all properties in 16 different and important parameters and bring out only the best for you everywhere. We reject 6 out of every 7 property that we visit. So, you can understand we try to give just the list that you need.
We are in the business of shortlists of great places to stay. 
Your perfect place to put up is just a click away:
Luxury amenities and Serene View of Mt. Kanchenjunga and Teesta River.
Luxury at its best
Home Stays 
Yet another option that you might come across is putting up at homestays. While the top-notch hotels in here offer all kinds of amenities, the homestays are humbler options. However, it is bound to feel like your second home.
Generally, families run homestays and they do their best to cater to all the needs of the tourists.
The best part of staying in a homestay is the fact that you get to relish the local flavour and cuisine like you might never have done before. You might even learn a couple of things about the local dishes since homestays often invite tourists to come inside the kitchen and watch the food being prepared.
The food is cheaper and filled with the love of a homemade meal.
Usual services are also significantly cheaper in a homestay. However, it is up to you to decide whether you would prefer all the amenities and stay in the comfort of a hotel or compromise a bit on the accommodation and enjoy the local culture of the place.
We also have a couple of options for homestays if that is what you are looking for:
The Best Homestay in Lolegaon
The serene view of River Teesta and Kanchenjunga
5 Places In Kalimpong That You Must See in your Sightseeing 
Although this is a smaller hill station in comparison to Darjeeling, it still has a number of tourist spots to visit. 5 out of these places should definitely be on your bucket list:
Delo Hill
Deolo Hill is significant in terms of tourist attraction. It is located at a staggering height of 1700 m and is labelled as the highest point of the city.
Three important reservoirs originate from this hill and meet the water requirements of the entire town. The hill is otherwise known for its unusual height that offers spectacular views of the lower valleys around.
There is a recreational park at the top of the hill where you could indulge in several types of adventure-sports.
Graham's Home
Education is an important factor with the locals over here. Every year, several people visit the town to get their children enrolled in some of the best schools in the city. Dr Graham's Home is also of educational importance.
It is located on the lower steep of Deolo Hill. Sir Anderson Graham of England had established this place in the year 1990. It is an international institution and is recognized across the globe. It offers vocational courses in baking, farming, dairy management, medication and clothing.
Cactus Nursery
If you have a special liking for cacti, then this is the place to be. There are tourists who would prefer a stereotypical flower garden and then there are others who would give anything to see cactus growing in a nursery. There are also varieties of orchid plants that grow in this nursery.
The location has a spellbinding backdrop and attracts many tourists in peak seasons.
Sherpa View Point
Closely located to Deolo Hill, there is a huge statue of Lord Buddha in a rock garden. The watershed right under this statue is the Sherpa View Point. You will be able to view the hills of Sikkim from this point. You can also see the Relli River flowing through a beautiful valley.
Zong Dhog Palri Fo Brang Monastery
Dalai Lama had consecrated this Monastery in 1976. This is also known as the Durpin Monastery. It is typically designed in the style of Buddhist construction. There are stunning wall paintings and the atmosphere around is calm, serene and rejuvenating.
Best Things to do in Kalimpong 
This might be a small town to live in but there are a whole plethora of adventure activities that you could indulge in.
We have discussed some of these activities at length here.
Paragliding 
Paragliding is the latest form of adventure sports that are boosting the tourism of this place significantly. Delo Hill is the starting point of paragliding. There are two different types of flights that you could take from Delo Hill.
Medium Flight- This lets you glide through the sky at a relatively lower altitude. The cost of medium flight paragliding is Rs. 2500.
High Flight – A high flight usually takes you to a higher altitude and lasts for a longer time. The scenic beauty of the valley down below is spectacular.
River Rafting 
The Teesta River meets Rangeet River and a confluence is a great place for river rafting. However, there are different levels of white water river rafting that you should consider before signing up for it. The levels are decided according to the difficulty in accomplishing them.
It is a wise idea to skip river rafting during the monsoon season since the water gets really rough and the river becomes turbulent.
You should also be well-prepared for rafting in this river. It requires some amount of experience as well. The surroundings are stunning and the experience of life-changing.
The cost of river rafting is Rs. 800 per head.
Mountain Biking 
If you like living life by the edge, then you will absolutely love mountain biking in Kalimpong. There are a number of routes that go through some of the picturesque locations in Kalimpong.
You could choose to ride a mountain bike from Lava to Lolegaon, from Kalimpong to Lava, from Lolegaon to Siliguri and from Kalimpong to Peshok.
You will usually be charged a security deposit of around Rs. 1000 for the bike apart from the cost of mountain biking. This fee is refundable.
Trekking
Kalimpong is home to so many hills and mountain ranges that trekking is an invariable option in this hill station.
The ideal time for trekking in Kalimpong is from October to February and from February to May.
You will witness bright and beautiful blooms on your trek. You will also come across pristine streams and cascading waterfalls on your route that will make the entire journey a memorable one.
For a 1-day trek, the cost is around Rs. 2500.
We are sure that you too would have a lot of points to add to make it a complete guide for people intending to travel to Kalimpong. Please feel free to write your comments and value ads. We would love to hear from you.
Places To Eat In Kalimpong
There are quite a few eateries in here, if you do not wish to restrict yourself to your hotel menu only. If you want to take a tour of the restaurants and cafes in and around , here is a brief glance at some of the best places to eat in Kalimpong.
Gompu's Bar And Restaurant
The name of the eating joint might not sound very appetizing but the moment you step into this cosy little place, you will realize the reason how popular it is.
Tourists from all over India as well as from across the globe throngs to this restaurant for some authentic Chinese and Tibetan delights.
The restaurant is right in the heart of the market. Damber Chowk is the nearest landmark and the restaurant is located on a narrow lane on the opposite foot.
A Tibetan family has been running the restaurant since 1900 and it has been a family pride through many generations. It was originally known as Gompu's Hotel.
Some of the best dishes served by the restaurant are fried and steamed pork momos, stir-fried noodles, fried rice and Chinese Chicken Curry, chicken drumsticks and wonton soup.
There is a bar attached to the restaurant as well. The prices are quite affordable and the restaurant PPIs thus quite popular among tourists and locals alike.
King Thai Restaurant
For a lively ambience and live musical performances, King Thai Restaurant is the only place that you get to choose in Kalimpong.
Locals visit this restaurant often because of the tiny amount of exposure they get in the form of nightlife. The food is decent and affordable.
China Garden
For authentic Chinese food, visit this restaurant close to Kalimpong's Bus Stop. Mei Foon and Chicken Drumsticks are their best dishes and a lot of people queue up for them in peak seasons.
Cafe Refuel
If you are in Kalimpong and are craving for an authentic English style breakfast, then Cafe Refuel is the place where you should be. It is situated on the outskirts of the city, but is worth the miles covered to reach.
Rigyal Restaurant
Around 30 m downhill from the main traffic point is the Rigyal restaurant. If you are cautious about the hygiene of the food then this is the place to be. You will get all the local delicacies at a cheaper price in a hygienic environment.
We're ready to help you with planning your KalimpongTour. Enquire Now.
We are retired, corporate people. So, we have taken a lot of stress and we understand what a holiday means to you
We have a team that is travelling on the streets of Darjeeling to find out great stay options
We have ourselves experienced these places and we can guarantee a great stay for you
Unlike others, we are never about dhobi list of options. We are the shortlist by the travellers just like you.
Why Go Nomadic? 
Away from super congested tourist places
Close to nature
Mindblowing locations
All modern amenities
Perfect Chillout. Guaranteed.
Check out Nomadic Weekends site here for more.