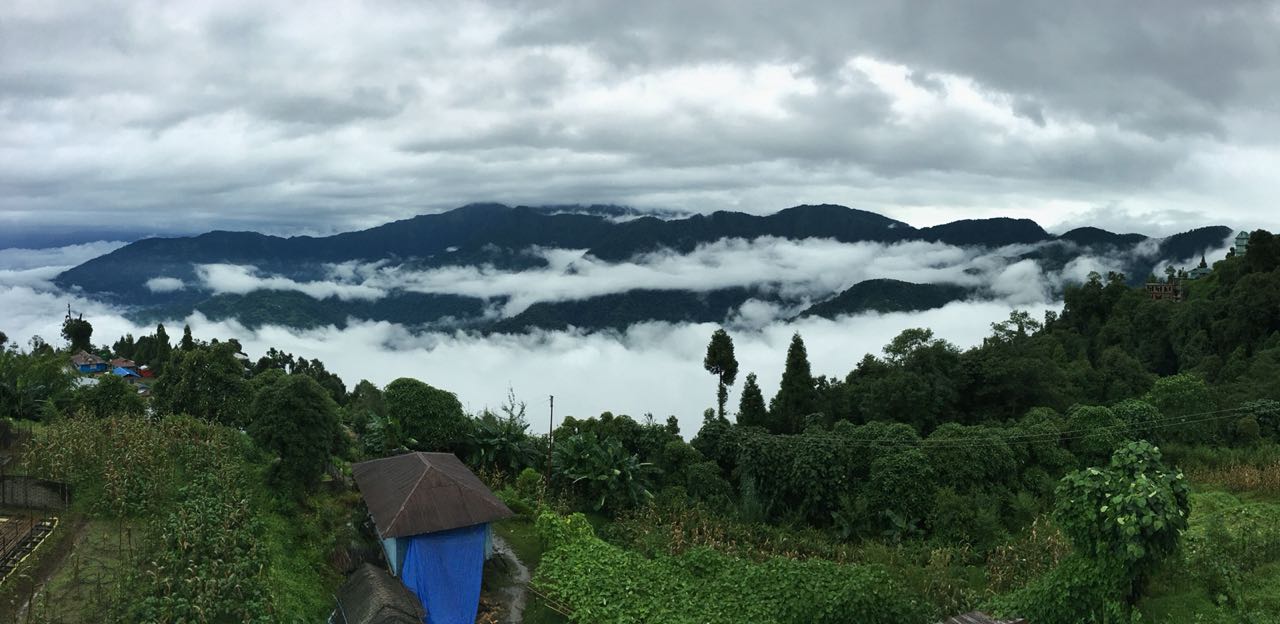 The virgin spot with rows of pines and rhododendrons triggers the beauty of Rishop. It is a small village in the districts of Kalimpong in West Bengal is one of the major attractions. There are myths associated with this name. "Ri" stands for mountain peak and "shop" means decade old trees.
The majestic view of the snow-capped Kanchenjunga is viewed from this evergreen village. It is 2591 meters around high from the sea level.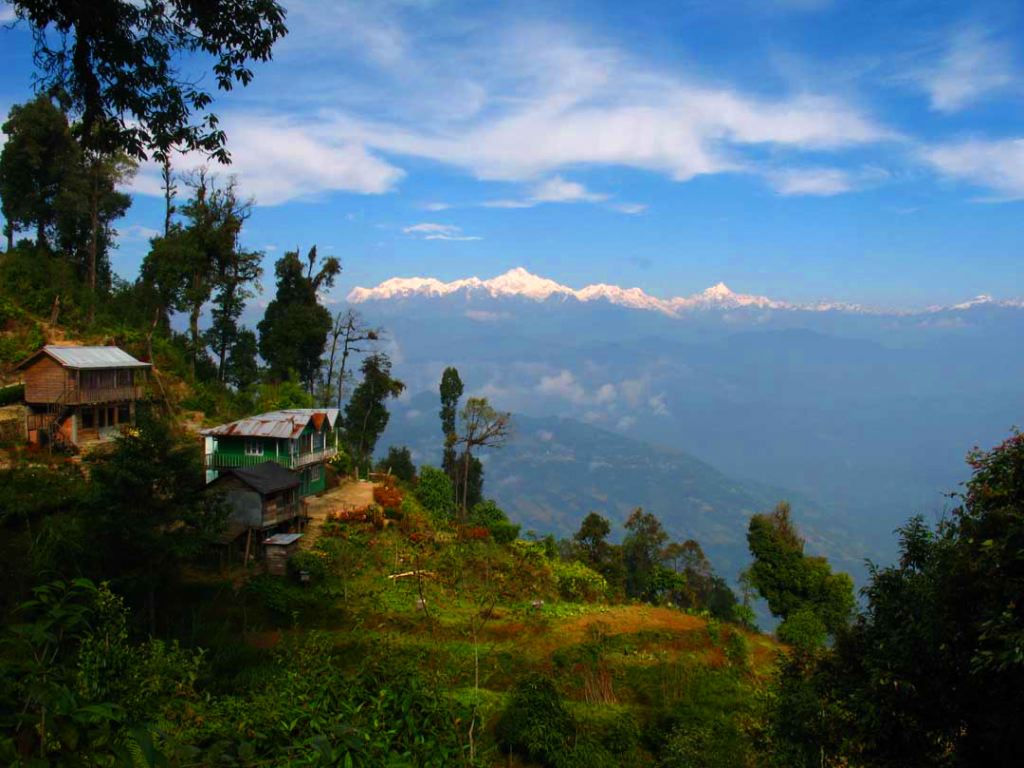 Rishop : General Information
The only serene location away from the hustle attracts people the most. A long walk around the village is quite relaxing. The rough roads through the region don't really entertain transportation. Trekking and chirping of birds are way more adventurous here.
The newly found hamlet has a story behind it. Initially, there was a cluster of households with limited farming weather dependent lands. Later this hidden diamond place is found.
This has become a real relaxing abode for tourists. The nearby destinations are Lava, Lolegaon, Pedong, Rishi and the other sightseeing of Rishop etc.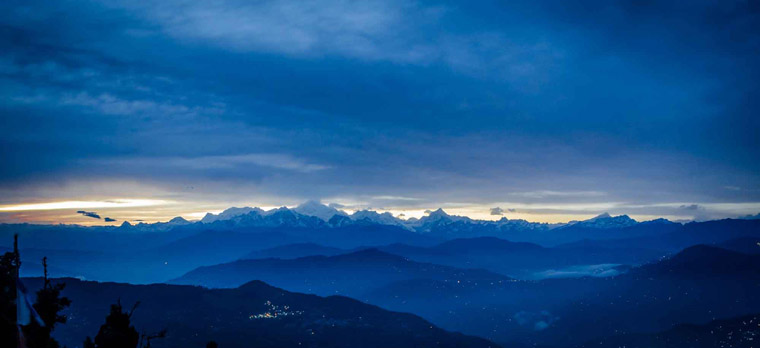 Rishop is a Lepcha village primarily. It's just 32 kms away from Kalimpong and 9 kms from Lava. For the adventurous troop, there are a 4 kms of a trek from Lava and rest can be availed by roads.
The most amazing view of Kanchenjunga can be witnessed from a magical viewpoint call Tiffindara. Nathula and Jelep La can be viewed partially from Tiffindara in Rishop. This place never fails to amaze you for its desperate viewpoints.
From left to right – Mt Kharg, Mt Kokthang, Mt Rathung, Mt Kabru, Mt Talung, Mt Pandim, Mt Kanchenjunga, Mt Simvo, Mt Narsing and Mt Siniolchu can be witnessed on a clear day. Altogether this awesome places gives you a mixed beauty sight of mountains, forest; chirping birds, clear day and the night sky.
But it lacks fancy stores and restaurants, unlike tourist's spots. Better to carry essentials. Foods are available from the hotel restaurants.
Weather and Temperature in Rishop
Rishop has versatile climates. It is a place that attracts tourists throughout the year. Summers are pleasant, winters are desperately cold and monsoons are risky sometimes. Landslides obstruct transportation then. For reference climatic variations are mentioned.
 Summer
Summer in plain is quite scorching and painful. To get a sigh of relief flock of tourists are attracted there in summers.
Rishop being a high altitude destination usually remains pleasant. The temperature hangs from 10 degrees to 29 degrees. Tourists can easily wander in and around Rishop at that time.
Monsoon
Summer is often followed by the monsoon. Heavy rainfall takes place around May to July(20 degrees approx). Avoid visiting Rishop in monsoons. A severe occurrence of landslides leads to low connectivity of transports.
Winter
Winter in hills is a splendid beauty. Mornings are foggy while noons are enjoyed by the tourists. The temperature is 0 degree to 6 degrees in December and January. There is a thrilling chill in Rishop. Sun hardly peeps in the winters. But a vague snow-capped mountain can be witnessed. Hopping around the nearby tourist's spot can be soothing.
Spring & Autumn
The perfect time to visit is October and Novembers. The temperature remains pleasant in autumns. The other perfect time to give a peep in here is in the splendid spring around February- March.
Best Time to Visit Rishop 
The best time to visit Rishop is the months of February, March, June, September, October and November. Adventure lovers also prefer to visit during the winters to experience the snowfall over here.
How to Reach Rishop 
It takes around four hours to reach Rishop from NJP railway station. The journey is around 110 km if you go via Kalimpong and 120 km via Gorubathan. From Bagdogra airport, it takes around an additional 10 km. From Kalimpong, it takes around 32 km via Alagarh to reach.
The road is quite steep to Rishop from Alagarh. It is only 9 km from Lava. The roads to Rishop are bumpy, gravel and steep. It is always advisable to take jeep type vehicle to reach up. On the way, you will see step farming.
There is about a 4 km trek way from Lava. It takes around 3 hours to trek through the pine, fern and orchids. Sometimes tourists can change their vehicle from Kalimpong to reach up. Rates are to be negotiated accordingly. From NJP/ BAGDOGRA/Siliguri pre-paid taxis and shared jeeps are available.
Major Train leaving from Kolkata to New Jalpaiguri:
Train No.
Train Name
Days of departure
Station of Departure
Arr.
Dep.
Travel Time
13173,

13175

Kanchenjunga Express
Tue, Thu, Fri, Sun;

Mon, Wed, Sat

Sealdaha
06:35
18:20
11:45
12363
KOAA HDB SF Express
Tue, Thu, Sat
Kolkata
09:05
18:55
09:50
12509,

12513

SBC-GHY Express
Fri, Sat, Sun;

Mon

Santragachi Jn.
10:05
21:25
11:20
13141
Teesta Torsha Express
Daily
Sealdah
13:40
02:40
13:00
12041
HWH-NJP Shatabdi Express
Mon, Tue, Wed, Thurs, Fri, Sat
Howrah
14:15
22:30
08:15
12345
Saraighat Express
Daily
Howrah Jn.
15:50
01:40
09:50
15959
Kamrup Express
Daily
Howrah Jn.
17:35
06:20
12:45
13147
Uttar Banga Express
Daily
Sealdah
19:35
06:50
11:15
13149
Kanchan Kanya Express
Daily
Sealdah
20:30
07:30
11:00
12343
Darjeeling Mail
Daily
Sealdah
22:05
08:00
09:55
12377
Padatik Express
Daily
Sealdah
23:20
09:15
09:55
Air Tickets Price and Timings
Rishop Sightseeings points 
Tiffindara View Point
The trip to Tiffindara takes about two to three hours including travel. The only point and perfect view of the snow-capped Kanchenjunga, Nathu La pass and Jelep La pass can be viewed.
The panoramic view of the passes is visible on a clear day. It is located at an altitude of 2360 meters. Tourists can trek to this point through deep woods of 45 minutes each way. The spot remains open from 6 am to 5 pm. It is always accessible to trek from Rishop.
Changey Waterfall
Book a cab to reach Changey waterfall. The silent walk through the woods and birds are bound to mesmerize you. Then the crystal clear snow melted water flowing from the heights will take your mind away. Changey waterfall takes about one hour from Lava. The cars are parked at a little distant. From there you need to trek 900 meters to reach the falls.
It is located near Kolakham in the district of Kalimpong. Kolakham is 4kms from Lava. The spot is open from 6 am to 5 pm. Himalayan birds like Blue Whistling Thrush, Indian Robbin, Grey Treepie etc are found.
Shiva Buddha Temple
This is quite an amazing place. Gradually you climb the red stairs you find Shiva and Buddha idols side by side.
Jorepokhri
This is an amazing hilltop of twin lake.  It is bordered by Kanchenjunga on one side and Darjeeling, Kurseong view on the other side. The word "Jore" means two and "pokhri" stands for pond. By car, it takes around four hours. The drive is by the Rishi road and NH10.
A Suggestion of Itineraries to Visit Rishop. You can modify it as per conveniences.
Day 1 – Bagdogra/ NJP to Rishop
There are many flights till Bagdogra. Book the seats in advance for availability. Trains till NJP are available too. Reach Rishop by rented cars from the terminals in four hours.
Day 2 – Rishop sightseeing's
Tiffindara viewpoint and Shiva Buddha temple and Changey waterfalls may be covered.
Day 3 – Trip to Jorpokhri
Visit Jorepokhri and Pedong and get back to your hotel.
Day 4 – Rishop to Lava
LAVA – The distance between Rishop and Lava is only 5 km. It is located 32 km east of Kalimpong district. Lava is a small town with natural vegetations and scenic beauty. Apart from the motorable road, tourists treks to Rishop from Lava.
The early morning view of the Lava monastery is a must visit. The monastery is also known as Ratnarishi Bihar Buddhist Gumpa. Karma Lodro Chokyi Senge, the third Kongtrul Rimpoche has established it.
Day 5 – Rishop to Lolegaon
The distance between Rishop to Lolegaon is 2 hours and 30 mins by car via Rishi road. Reaching Lolegaon, canopy walk through the beautiful forest is a must. Canopy walk is through the hanging bridge. The bridges are tucked from one tree to the other. You bet to see this greenery ever in your life. The next stop must be Neora Valley National park. The unique view of green forest and abode of red pandas are a must visit. The tourist may reside at Lolegaon for a night.
If you want us to Plan your Rishop Trip for free. Click Here.
Rishop Hotels, Homestays and Best Places to Stay
If you want complete privacy, away from the conundrum, there are provisions of cottages for you too.
We at Nomadic Weekends provide you with customised itineraries and tour plans according to your needs and requirements.  We are travellers just like you and therefore our shortlists or tour plans are not too extravagant and hectic- just like you want it.
You can click on the links below to know the places in much greater details. 
This is one of the best resorts around Rishop. The warm hospitality, deep woods of pine and fir attracts the most. The scenic view of the mountains can be enchanting from here.
The check in and out times are 11 am and 10 am respectively. They charge 1650 INR + 5% GST per head per day with meals.
We perhaps chose the best for you. In the midst of hundreds of colourful birds and mystic view of the passes chases your heart. They charge 1450 INR per day per head with meals. Check in and out times are the same.
One of the best resorts in the area serves you at its best. The accommodation ranges from INR 5500 INR to & INR 7200 INR respectively. You can pay other taxes and GST at the resort separately.
Their check-ins and outs are 12 pm and 11 am respectively.
If you want us to Plan your Rishop Trip. Click Here.
Here are a few other articles that you may like reading
We are retired, corporate people. So, we have taken a lot of stress and we understand what a holiday means to you
We have a team that is travelling on the streets of Darjeeling to find out great stay options
We have ourselves experienced these places and we can guarantee a great stay for you
Unlike others, we are never about dhobi list of options. We are the shortlist by the travellers just like you.
Check out Nomadic Weekends site here.