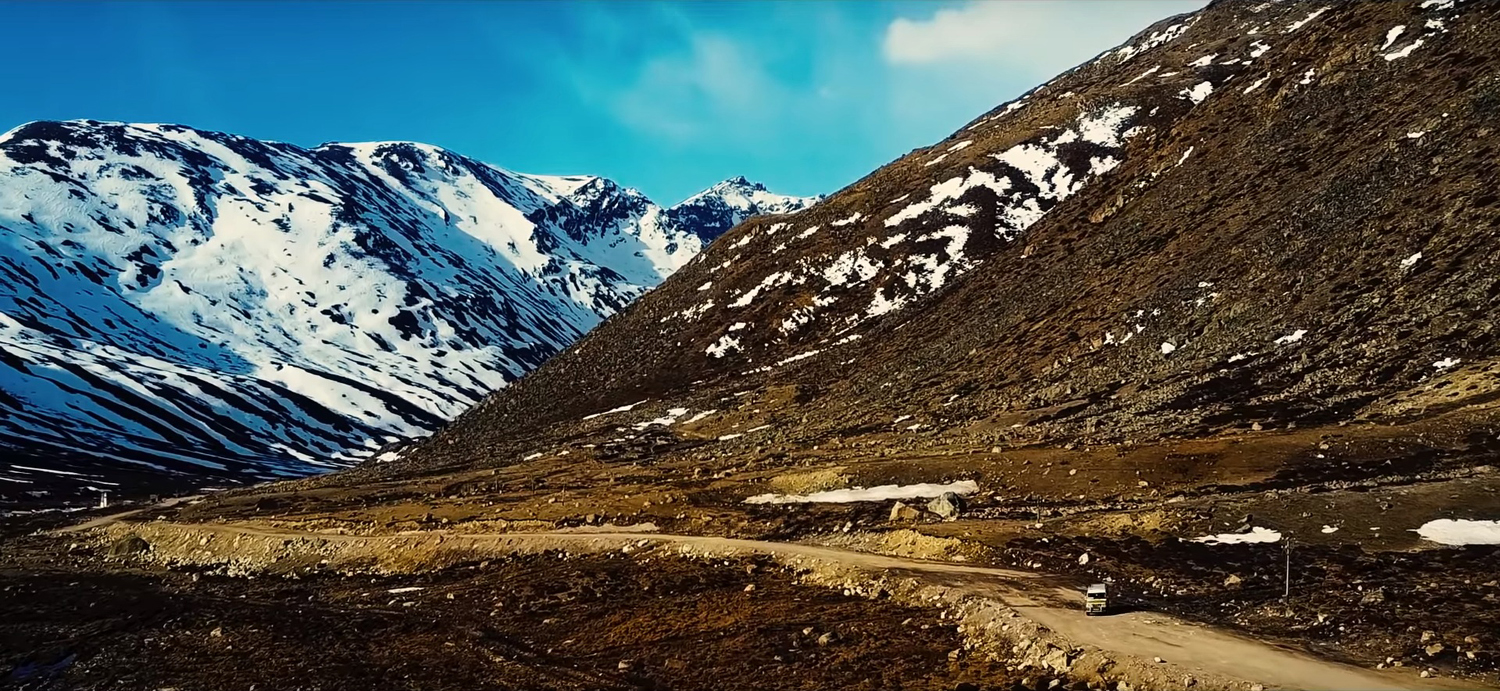 Lachen: Everything You Ever Wanted to Know
Lachen and Lachung are two integral parts of North Sikkim Trip. Lachen and Lacnhung are two cities that work as the base for the tourists who want to travel to Gurudongmar Lake, Chopta Valley, Yumthang Valley, and Zero point.
North Sikkim is one of those places on earth that redefine our definition of beauty in several ways. While some of us prefer rugged terrains, a majority of us prefers lush green hills and then there are some that marvel at the mesmerizing flowers blooming in the wild.
North Sikkim is an amalgamation of all these and more. Considering the fact that it spreads out over varying altitudes, a trip to North Sikkim will ensure that you experience a bit of everything that Nature bestows upon us, humans.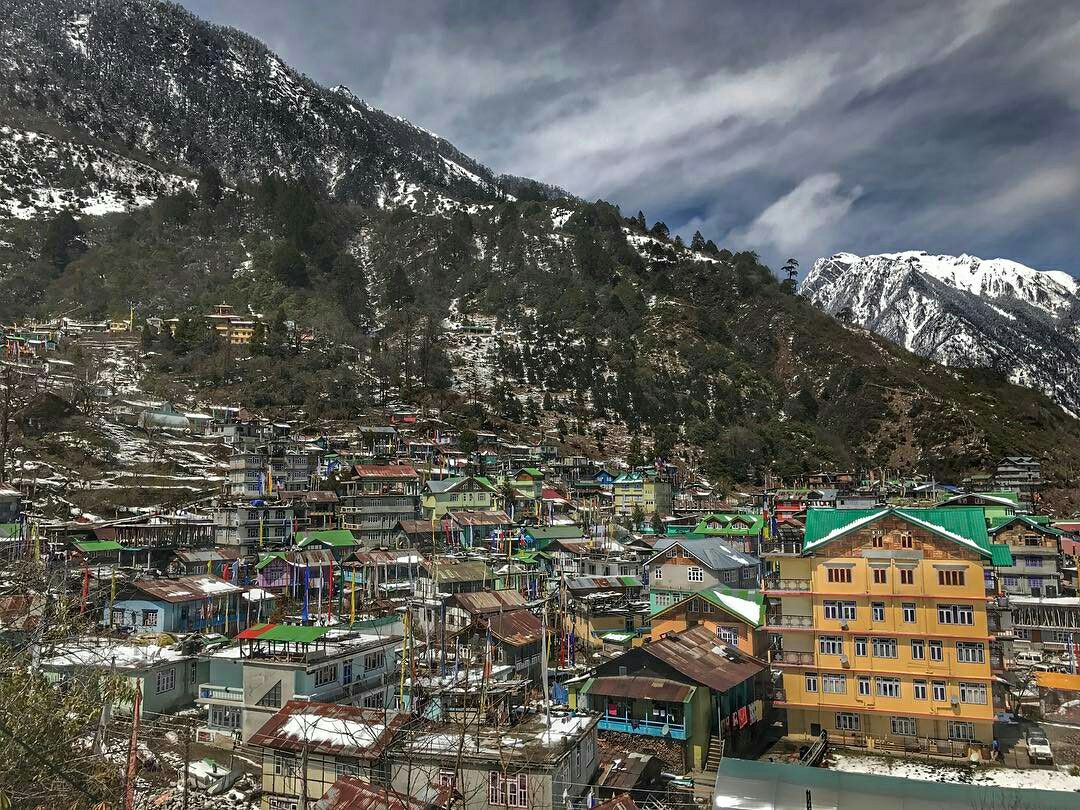 While all the aforementioned information caters to the poet in us, there is a calculative accountant within that raises eyebrows at the possibility of an overstretched budget.
Well, here's good news! North Sikkim is much cheaper in comparison to other hilly areas like Mussoorie, Nainital, Manali, Jammu & Kashmir, Dharamshala etc. If you choose the right time to visit, you might even experience fresh snowfall that will remain etched in your heart forever.
North Sikkim is also a photographer's delight. There are so many vivid colours, textures, and varying landscapes to capture that your camera will be your best travel companion on the trip! In this article, we will take a detailed look at the two significant places of North Sikkim; Lachen and Lachung and discuss a few essential facts.
Lachen: Everything that You Need to Know 
It is the twin sister of Lachung and both the villages form bases for tours up towards Gurudongmar Lake and Chopta Valley. Situated at a height of 8,838 feet above sea level. Following the North Sikkim Highway, it will take around 6-7 hours to drive up to Lachen from Gangtok.
Gangtok To Lachen:
Expect a Roller Coaster Ride Through the Bumpy Roads

The most widely available means of transport is the car. Three significant places fall on the way of driving from Gangtok to Lachen. These places are Phodong, Mangan, and Chunthang. From Chungthang, the road splits into two directions. The road on the left leads to Lachen, that is about 26 Km from Chungthang.
To the right, it goes towards Lachung. Conditions of the road from here on tend to be rough and unfavourable, depending upon weather conditions. Prepare yourself mentally for a roller coaster ride ahead.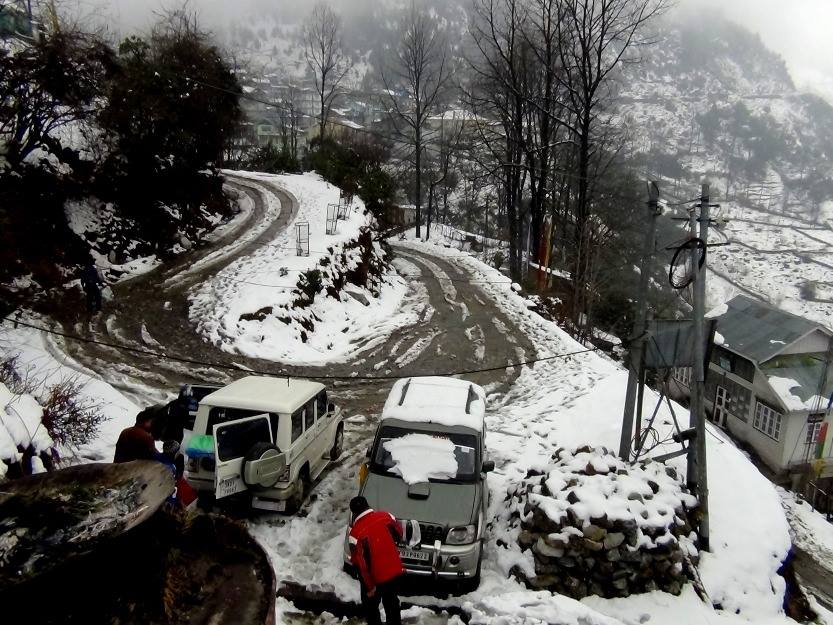 On the way from Gangtok to Lachen, you will be able to witness the meandering Teesta River. The colours of the river range from a sapphire blue to emerald green, depending upon the colour of the sky in different patches of the journey. Your first halt will most likely be at Tingchim.
This is where you can have your simple lunch of rice, lentils, and curries. It might not be a fascinating meal but it will fill you up sufficiently. You might even witness people from the Border Road Organization repairing stretches that have been damaged by landslides.
From Paved Roads To Mountain Roads!
Depending upon your package, your driver may or may not stop at Naga Waterfalls. The next brief stop will be at Toong Check Post. This is where all your documents and permits will be thoroughly checked and entries will be made in log books about the details of the trip and the car.
As the car inches towards the town of Lachen, you will notice that paved roads will gradually give way to typical mountain roads with curves and hairpin bends.
The air will start feeling thinner and colder as you go higher up. It will be late evening by the time you reach Lachen. If you are welcomed with a cup of hot tea in your hotel, make sure you drink it right away because it will get cold in minutes from being served.
What Does Lachen Look Like?
Lachen will instantly look like a place cut off from the world. Its serenity is unmatched and the warm welcome of the locals is like a bowl of piping hot soup to comfort you in the chill that reaches your bones.
You might be surprised to see how the locals go about in single layers of clothing, especially if you visit in the summer months, while you could be shivering habituated to the extremities of weather.
Lachen Is At 9,000 feet or 2,750 meters!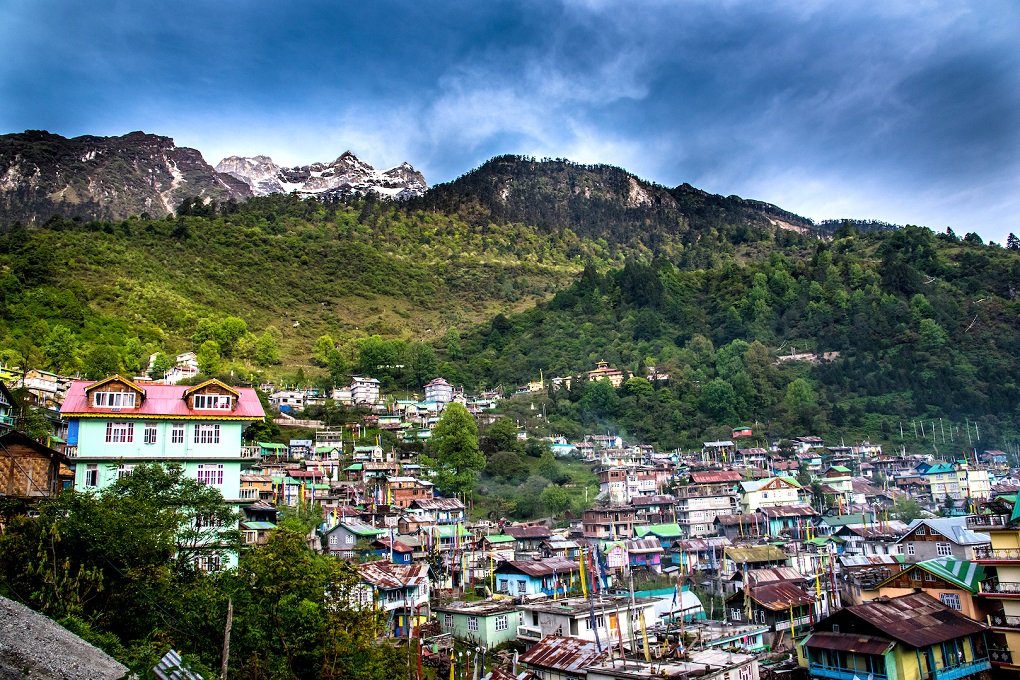 Situated at an altitude of 9,000 feet and "Lachen" originally means, 'Big Pass'.
It is majorly a grassy valley that is also spotted with forests of conifer and Rhododendrons. Lachen Chu, a mountain stream, passes right through the heart of the valley and cuts through the village, making deep gorges as it flows. The valley is lined on the other side with towering pine trees and snow-capped peaks.
The roads of Lachen require frequent repair and maintenance work because of landslides and especially during the monsoon months. However, that does not deter the village from looking as picturesque as ever. There are only 250 houses in the village and the inhabitants migrate to the valleys in summers to avoid facing the extremities of weather.
Lachen Weather and Temperature Across Months 
Moderate Summers (March-June)
Summer months in Lachen begin from the month of March and end in the month of June. Summer months are pleasant and the temperatures are bearable. While snowfall might not be a part of your experiences, you could still cherish the fresh weather conditions.
The temperature is quite pleasing and ranges between 10 degrees Celsius to 28 degrees Celsius. Since the temperature is favourable, you will absolutely love travelling from one place to another and experience the local charms of the place. One of the main attractions of the summer season is the annual yak race that the adventure-lover in you will be thrilled to witness.
Unfavourable Monsoons (July-September)
Monsoon, in Lachen, lasts from July to September. It is a completely unfavourable phase for travelling and we discourage our customers to travel during the monsoons. Heavy rainfall, along with landslides, tends to happen all through these months. The temperature ranges anywhere between 15 degrees Celsius to 22 degrees Celsius.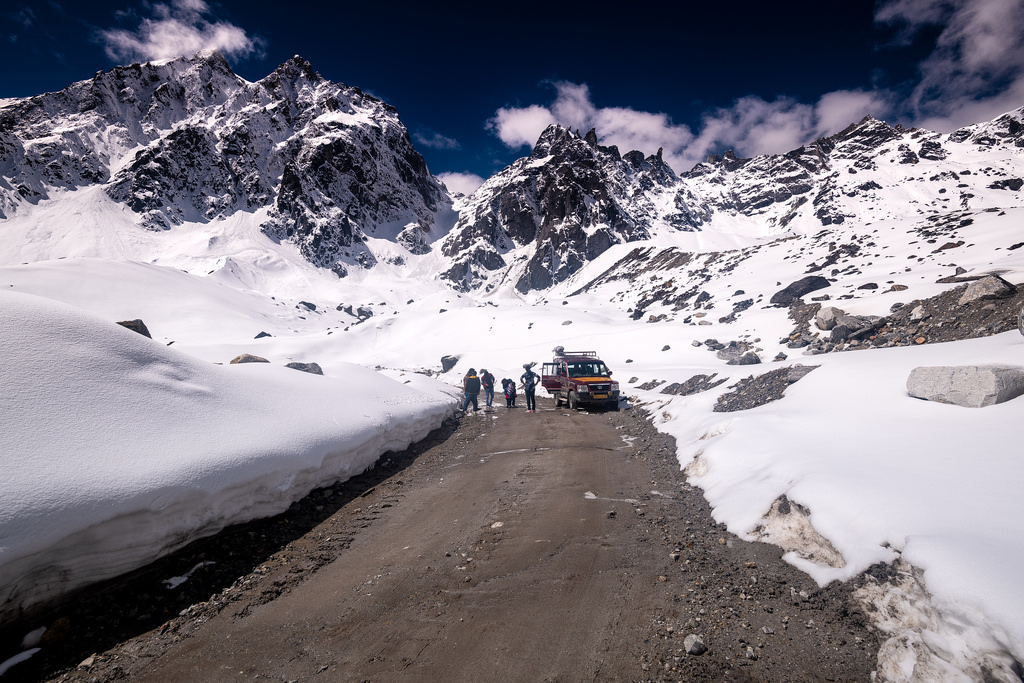 Adventurous Winters ( October – February)
Winter officially sets in by the month of October and end anywhere between February to mid-March. Lachen witnesses temperatures of 5 degrees Celsius to 15 degrees Celsius. December and January are the prime winter months.
It can get extremely cold in these months and you can expect heavy snowfall. However, the peak season is generally around October-November because of the stability of weather and increased visibility.
Winters could mean extremely low temperatures but the thrill of walking through the snow is an adventure of sorts.
Lachen: Best Time to Visit
The first question that a tourist generally has on the mind is the best time to visit a destination. When it comes to Lachen, the best time to visit is the month of November. The skies are clear, snowstorms and blizzards are at least a month away and moderate snowfall may or may not occur.
However, the time between October to June is also favourable period since there are several opportunities for sight-seeing and outdoor activities during these months.
Lachen: Places Of Interest | Sightseeing Options 
There is something for everyone in the undiscovered paradise of Lachen. Whether you are a seeker of peace or a shopaholic, whether you are a thrill-seeker or a lover of Nature; you will find something or the other to interest you in Lachen. Listed below are a few places of interest in Lachen that you will absolutely love:
Trekking the hills and valleys
It is but natural to want to trek to a location which is so beautiful. The trekking trails of Lachen are not easy, to begin with. The mountain edges are sharp and rugged, the weather is highly unpredictable, and the terrain looms large as a challenge.
However, if you plan your innings well and do thorough research on how to go about the process, you will love the biodiversity and the irresistible views that the trekking trails of Lachen have to offer.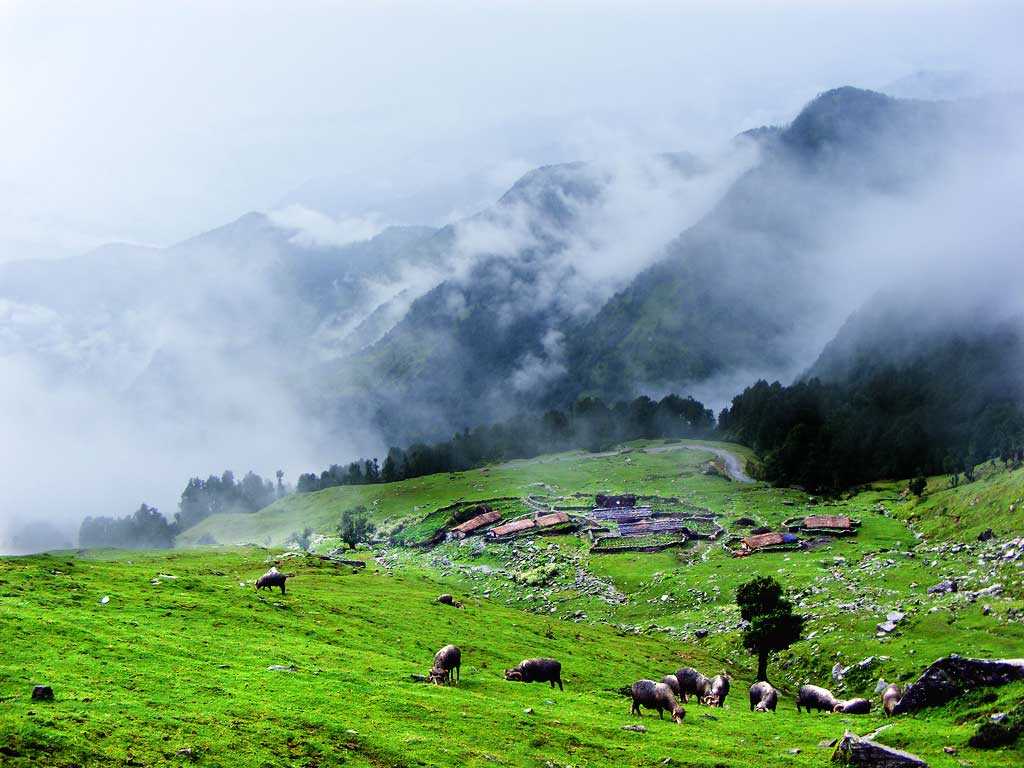 The two places that trekkers love are Chopta Valley and Green Lake.
For the Peace-Seeker
If you are not too fond of adventurous treks and trails, you could visit the Lachen Monastery. Apart from it being visually appealing, Lachen is also home to the oldest Monastery in Sikkim that was built in 1858.
The Lachen Monastery had a small start, with not more than 6 monks but it received monetary aid from Sikkim government and was reconstructed. The Lachen Monastery is also called the Lachen Gompa. The architectural style is typically Tibetan.
The Monastery hosts an Annual Mask Dance Celebration. It brings together the bright and wonderful colours that represent the essence of North Sikkim.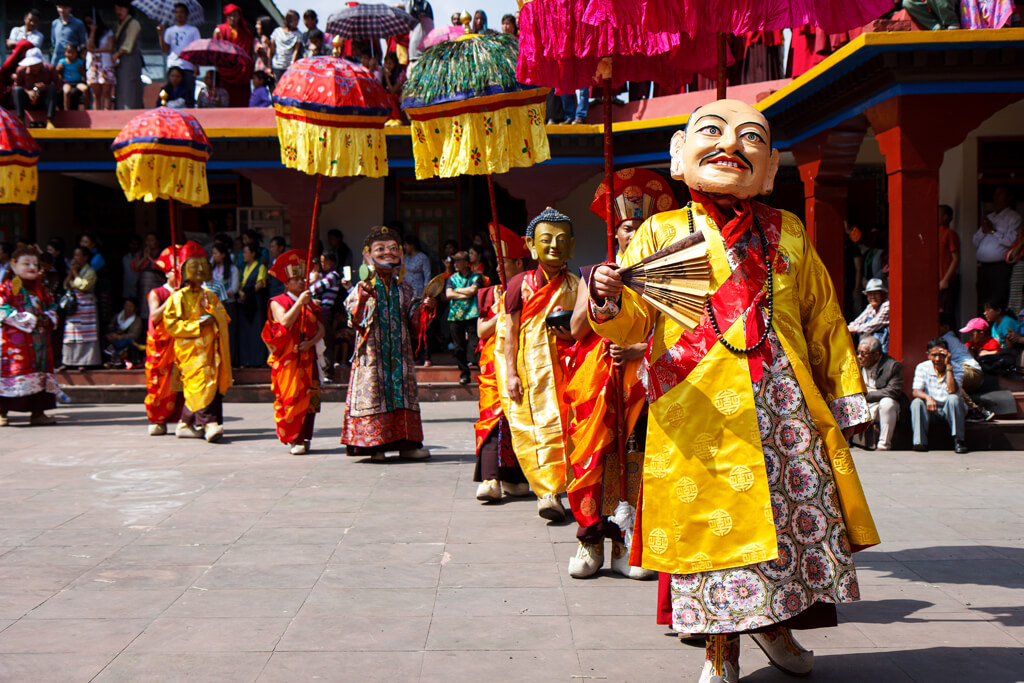 For the Nature Lover
There is the famous Rhododendron Sanctuary that is in full bloom in the month of April. It is a photographer's delight. There is a minimum of 40 different species of Rhododendrons in this sanctuary. You can find Rhododendrons abundantly in North Sikkim but the sanctuary has the best varieties.
You can cherish the view from the months of April-July. It is at a distance of 22 Km from the village of Lachen.
For Wildlife and more
The Kanchenjunga National Park is located around 107 Km from Lachen but is worth a visit. The Park is a UNESCO World Heritage Site. The Zemu Glacier is one of the many attractions of the Park. You can spot several species of wildlife like the snow leopard, the musk deer, the clouded leopard, red panda etc.
Among outdoor activities, you can choose from trekking, wildlife photography, camping and wildlife spotting.
For the compulsive shopper
If you love shopping wherever you go then Lachen will surely not disappoint you in any way. The local people are skilled at handicrafts and they sell these at affordable prices. There are exquisite handloom products like carpets, shawls, handbags and intricately designed wooden artefacts to choose from.
If you wish to buy local tokens of remembrance for loved ones back home, then the Handicraft Center of Lachen will be a pleasant surprise.
The locals, originally called the Lachenpas, are skilled craftsmen and they weave several gift items from yak and sheep wool that could serve as perfect souvenirs. You will also find several hard-working women spend ages weaving these pieces of beauty.
The Tourist Information Center of Lachen will help you buy maps of the local area and postcards as well.
Lachen Hotels 
Lachen has many hotels and stay-options. But as you get in extreme hilly locations, all the options are quite basic and devoid of any luxury amenities. However, the most important thing apart from the clean bed, room and toilet is warm water here. You get warm water in all the hotels.
Our team has travelled across this place many times and we have selected the best hotels at every price category. So, with us, you will certainly not have any complaints.
Nights in Lachen are cold and you will love the dining area of your hotel or homestay where you can expect a large fireplace. Most tourists warm themselves up in front of the fire. You will relish a simple meal of rice, mixed vegetables, fries, and chicken curry.
The hot steam rising up from the bowls of curries laid out for dinner is the kind of warmth one seeks for while on a vacation to the hills. You could take a stroll out on the streets after dinner but if you can't really brave the cold, you could curl up under layers of quilts in your room and sleep well.
We at Nomadic specialize on trips in the North Eastern parts of India. We send thousands of people to Noth Sikkim Trp every year.
You can get a quotation and free consultancy from us.
This may be of your interest too:
Gurudongmar Lake: Do not Plan Before You Read These 19 'Must Know Before You Go' Facts 
Click On The Link to Know Everything About Yumthang Valley in 8 mins 
Click On The Link to Know Everything About Lachung in 9 mins to Know more about Lachung
Lachen
North Sikkim