Sikkim is not some alien term if we are from India. Sikkim is not only popular for the beauty it possesses, but also the state's concern about cleanliness and hygiene and safety of travelers and other attributes which place Sikkim in the good book of every traveler. Ravangla is an important page in the book of Sikkim that you cannot afford to miss.
Our this article is a tribute to this awesome yet little unknown place called Ravangla.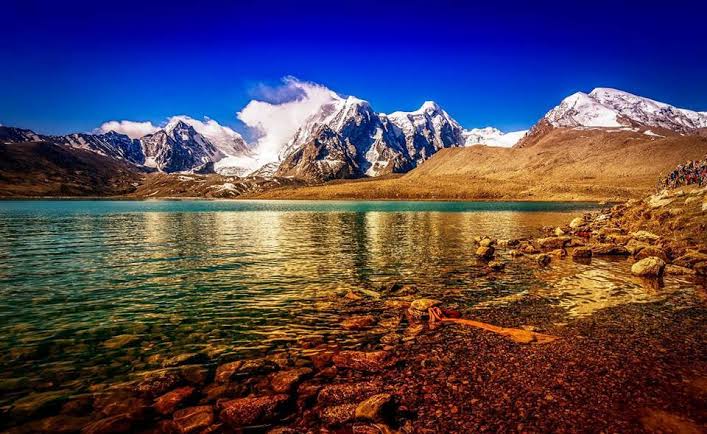 Now to talk about the geographical aspect, the first thing that strikes our head is the Mountain. A trip to Sikkim is more like answering the call of the mountain, valleys and sprinkling streams.
It's surely a commendable job if we manage to find time from the hectic schedule to chalk out a trip and in case of Sikkim, it can be said that the mountain Gods have answered your call.
Ravangla: A Quaint Hill Station 
Located at an altitude of 7000 ft in south Sikkim, Ravangla is a place of wonder with all-natural bounties. The location of the hamlet is situated on a ridge between Maenam and Tendong hill. The quaint town is surely a place to be if you want an undisturbed, uncovered view of the greater Himalayan ranges like Mt. Kanchenjunga, Mt. Sinialchu, Mt. Pandim, Mt. Kabru, etc.
The place is covered by hills and mountains is a paradise for both types of people- the one who loves winter wonderland covered with snow and the other who favor green valley shadowed by pine trees, flowing water.
The upper part mostly gets covered with snow during winters whereas in the lower part, named and unnamed flower blooms, creating an aromatic ambiance.
Culture:
The place rightly catches all our attention not only for its nature gifted treasures but also of its ethnicity. During the month of August and September, there is a local festival called Pang Lhabso, which exhibits the local culture of Sikkim with foods, handicraft items and a special dance called Chaam.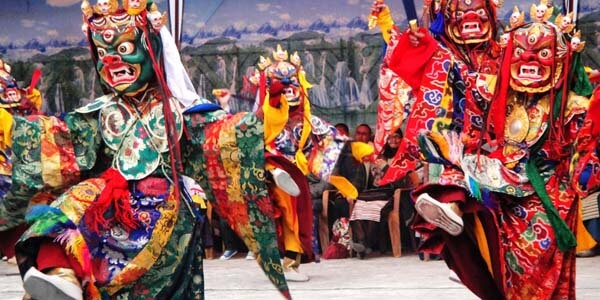 Noteworthy to mention Sikkim also stocks the best carpet makers. So head to the Tibetan carpet center to purchase traditionally hand-woven carpets. Ravangla serves as a base for those who visit Peling, Kaluk and Namchi.
8 Places to Visit from Ravangla; Sightseeing Options 
# 1 Buddha Park:
Also called as Tathagata tsal, Buddha park is one of the most popular pilgrimage sites to the people. This park has 130 ft high statue of Gautama Buddha, which took approximately 7 years to complete. It is situated within Rabong Gompa.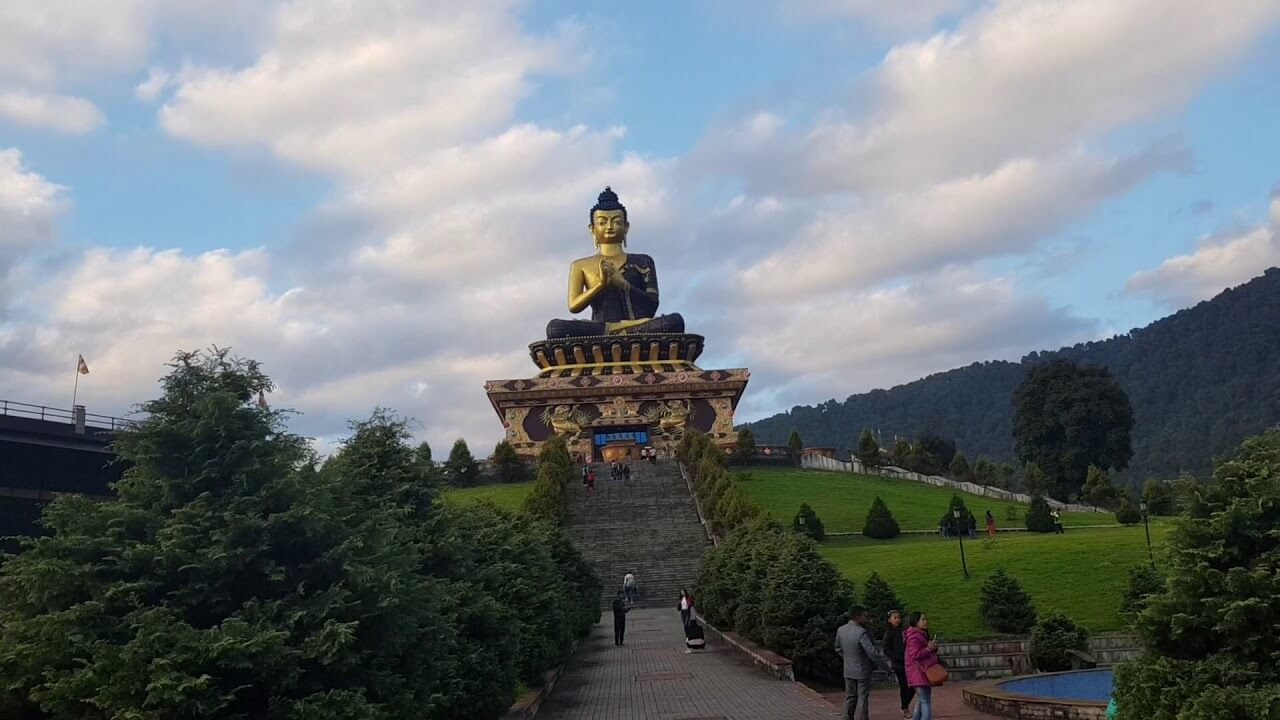 The park stays open from 9 am to 5 pm and includes separate entry fees for Indians and Foreigners. Outside the park, there are local stalls, from where you can collect souvenirs for your kith and kin. The view from the top is absolutely mesmerizing.
# 2 Palchen Choeling Monastic Institute:
Head about 10.5 km northwest to Ravangla and what you find is a beautiful Monastery complex that was built in 1955. This complex shelters about 500 monks and it serve as the residence of Gyaltsap Rinpoche, who is one of the highest figures of Kagyu Buddhism order (a religious order followed by the Buddhists).
It is a very important place in the religious context. The main prayer hall is vibrant and beautifully decorated with dazzling gilded roofs and a huge courtyard that has tiles, having the swastika symbol.
It remains open from 8 a.m to 5 p.m. the entry is free of cost. One can witness the Himalayan peaks from the monastery. There is a special dance item held every year in the month of November, known as Mahakala dance.
# 3 Old Ralang Monastery:
Timing is 8 a.m to 5 p.m. it was built in 1768 and considered one of the most sacred places in Sikkim. On the 15th day of the 7th month every year, the monastery organizes a masked dance known as chaam.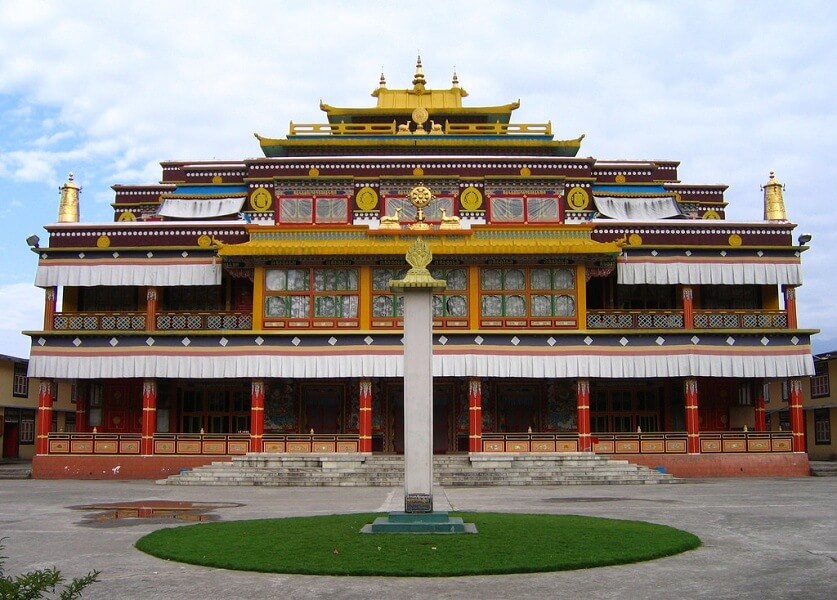 The special fair called Lossing is held in the month of December.
# 4 Ralong Hot Water Spring:
We all are aware of the fact that hot water spring has healing properties and this is, in particular, is situated 7 km before the Borong village.
An adventurous person can also hike from Ralong monastery and reach the spot within an hour. This spring is more popular in winter than in summer.
# 5 Trek to Maenam hills:
Elevation level 10,300 ft. various scenic beauties await for you here like the view of the majestic Kanchenjunga, the Bengal valley expanded between Darjeeling and Kalimpong hills.
# 6 Maenam sanctuary:
Apart from this, there is a sanctuary called Maenam sanctuary, which is home to a variety of flora and fauna.
# 7 Wildlife:
The rhododendron trees, the oak trees, and the chestnut trees cover the entire forest area. Among wild animals, you can spot Himalayan black bears, red panda and large species of deer.
One can hire a guide by spending 2000 bucks. It normally takes 4 hours to climb up and 2 hours to descend. Carry proper items if you are keen on having this trek. For bird and butterfly watching, it is suggested to visit between 8 a.m to 4 .m, otherwise, it gets dark.
Amidst birds found in this sanctuary, the popular ones are Eagle, white collared blackbird, Tesla, Indian blue Robbin, Flycatcher, etc. You must remember that a special permit is needed from the Sikkim state government to enter the sanctuary.
# 8 Rayong sunset point:
Visit Rayong sunset point to get a clear view of some of the ranges of Bhutan. It is situated 8 km away from the town and reaching the mentioned point by 5 a.m is suggested. The sunrise point also offers a base camp for several other treks. For instance, Deorali Dara, Tinkitam and Gholey Bhir.
Apart from the sightseeing, don't forget to relish the good food the place offers. However, Thupkas, noodles, momos, special soups are must-haves.
Ravangla Festivals ;
This small town is known for many interesting and colorful festivals. Here are a few that demands attention.
#1 Saga Dawa
Celebrates the lifetime of Buddha, beginning from birth till death. Happens in the month of May – June and hugely celebrated in Gangtok.
#2 Drukpa Teshi
The greatest festival of the Buddhists.
#3 Phang Lhabsol
Celebration of nature, Mt. Kanchenjunga is shown respect and devotion.
#4 Bumchu
Celebrated in January.
#5 Losar
The Tibetan New Year falls on February first.
#6 Dasain
More like the Dusshera we celebrate, triumph of good over evil.
#7 Losing
After the harvest season gets over, Chaam dance is also performed.
#8 Tihar
Like the festival of lights i.e. Diwali etc.
Ravangla is also the Trekker's Paradise
Because you can explore several peaks from here, be it moderate to difficult. Some of the popular ones are,
#1 Goecha La Trek
11 days ( March- may, September- November, Altitude 4939 meters ).
#2 Rhododendron trek
10- 11 days is easy to moderate level trek, altitude is 1728 meters, happens in April to mid of may.
#3 Sandakphu trek
8- 9 days in April, May and October to December, Altitude 3636 meters.
#4 Varsey trek
7-8 days in April and May, easy to moderate one with Altitude 3060 meters
#5 Kanchenjunga base camp trek
This is one of the most popular ones of 11- 12 days in March to May or September to November, moderate to difficult trek with an altitude of 5086 meters.
#6 Kasturi Orar round trek
15-16 days in March to May or September to November, moderate to difficult one with an altitude of 5002 meters.
#7 Singalila trek
18- 19 days in in March to May or September to November, a moderate to difficult one with an altitude of 4940 meters.
#8 Dzongri trek
10- 11 days in March to May or September to November, a moderate to difficult one with an altitude of 4020- 4939 meters.
#9 Green Lake trek
16 days in April or October, a moderate to difficult one with an altitude of 5050 meters.
Visit Yuksom, a quaint village, 4 hours away from Gangtok. It serves as the main site for several treks.
If you are planning on doing any of these treks. Then be sure to carry all the necessary items for your safety like Torch, woolens, windcheater, boots, socks, ropes, first aid kit, eatables, chargers, extra batteries,  knife, compass, tent, sleeping bags, plastic seal bags to keep your gadgets dry all through the trek.
How to reach Ravangla 
The nearest airport is the Pakyong Airport, distanced at 74.7 km and takes about 3 hours.Taxis and cabs are available outside the Airport.
The nearest railhead is NJP, distanced at 119 km and will take 4.5 hours to reach by road. That is to say, you can bargain with the cab drivers before hiring one.
Now if you are on a road trip, then start from Siliguri by 8 a.m and reach here by 1 p.m or you can start from Gangtok at 8 a.m and reach here by 11.30 a.m. Shared Jeeps are the best mode of the visit or if you are a large group of tourists then booking a car is suggested. Reserved large vehicle will charge approx 6k to travel one side.
On the way to this place, you can buy fresh organic vegetables.
Best Places to Stay in Ravangla 
Barfung retreat is one of the best options to stay in Ravangla. Situated in a very quiet environment, the resort is full of greenery. The amalgamation of nature and luxury is situated here. All 3 star amenities are sure to make your stay comfortable.
Details:
Costing for the stay is INR 4k + 5% GST per day per cottage including food and lodging.
Check-in- 12 p.m
Check out- 11 a.m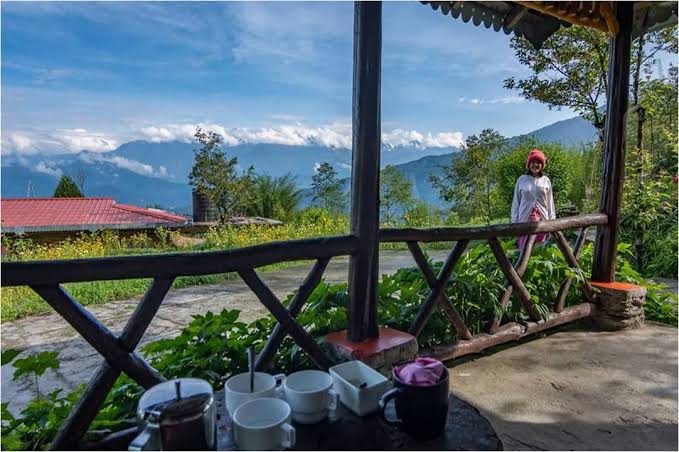 Next on our list of comfortable stays is Narsing village resort. This resort offers a picturesque view of the Rangit valley, mountains, countryside, and monasteries. The snow-covered peak of Mt. Narsing, standing tall at the background literally makes this resort look-alike a calendar shot.
If you wish to relish traditional Sikkimese hospitality along with luxury, this is your place to be. The resort consists of two wings- the Annexes and the main resort. The former is separated from the main site with a distance of 1 km, whereas the latter is located on the highway to Pelling.
Details:
Deluxe or Standard rooms are available according to your budget. The resort apart from boasting of natural backdrop has its own lawn and gardens. The kitchen has multi-cuisine expert chefs to suit your taste buds.
Check-in- 12 p.m
Check out- 11 a.m
The pocket pinch will be INR 2750 + 5 % GST per day including breakfast for two.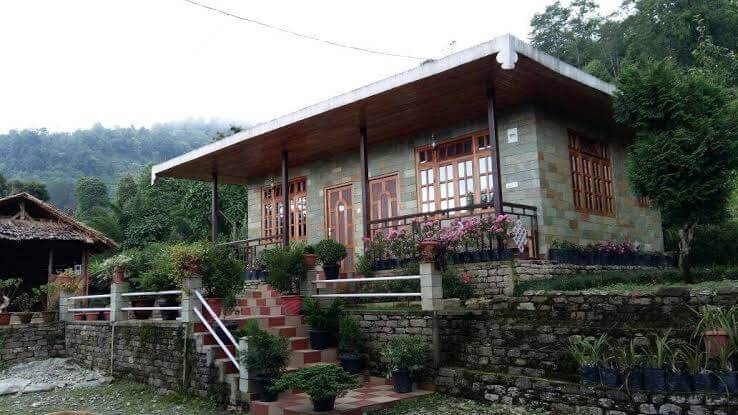 Next on the list is a quaint homestay, which has been awarded by the Sikkim Govt as well for the performance of its hospitality. Great view of mountains, stream flowing in front and great food and hospitable staff make it an ideal place for a traveler.
Details:
Check-in- 11. A.m
Check out- 12 p.m
Pocket pinch is INR 1650 + 5 % GST per head per day including all meals.
Charges for children below the age of 5 are complimentary. Pet is allowed here.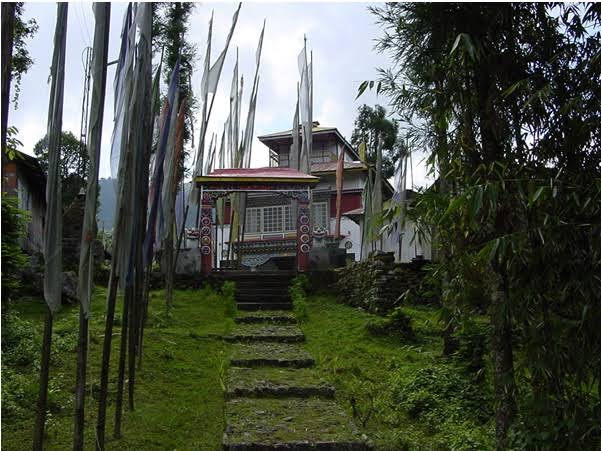 Birder farm stay, the name itself relates to nature or the proximity towards nature. Unlike hotels, the resort does not allow dampening your mood by the artificial scenes of busy roads and crowds and that is why the environment is true village-like.
You can view large acres of tea gardens and cardamom forest cover creating a green carpet. The property also serves organic vegetables, fresh from their gardens. The name of the property comes from the plethora of Himalayan birds available here.
Details:
The Accommodation consists of 2 log house suite, 3 villa suites and 2 family cottages. The maximum accommodation strength is of 14 people.
Check-in – 12 p.m
Check out- 10 a.m
The farmhouse has expert chefs, who can give you a tutorial on-demand on the local cuisines in their own kitchen. The property offers you natural, yet luxurious facilities. That is why you can indulge in the hot stone herbal bath named Dotho at the property's own spa service.
On-demand the property helps in arranging guided treks or vehicles as per your tour schedule.
The property has total of 8 rooms, which are decorated keeping in mind their rich cultural heritage. There are several packages to suit your needs like-
The continental plan includes bed and breakfast.
A log house suite costs INR 4000 + 5% GST
A villa suite costs INR 4500 + 5 % GST
Family cottage costs INR 4800 + 5% GST
The cost of extra bedding is INR 1500 per night.
Guide charges for short trek/hike 01-03 hours Rs 1000/- per trek
Guide charge for a day trek 04-06 hours Rs 1500/- per trek
Bird watching Guide for one morning Rs 2000/-
Bird watching Guide for whole day Rs 3000/-
Dotho  (Traditional Sikkimese hot-stone herbal bath) per person (Minimum of 2 Persons) Rs 2000/-
Airport/ Railway station / Siliguri  Pick-up or Drop Rs 3000 – 5000/- per vehicle
Sightseeing tours around Kewzing, Rayong, Samdruptse, Temi tea Rs 3000/- per vehicle.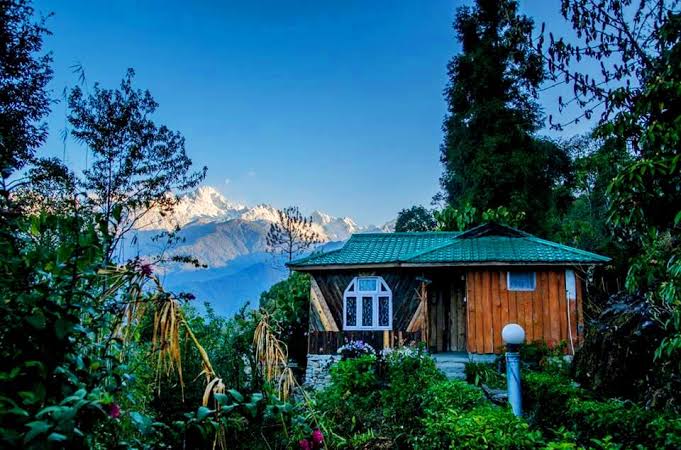 Great view of mountains, stream flowing in front and great food and hospitable staff make it an ideal place for a traveler. Feast your eyes with the view of Mt. Kanchenjunga from the rooms. The silent name of the resort comes from its location which is far from the madding crowd.
Details:
Check-in : 12 p.m
Check out : 10 a.m
These kinds of locations are best for bird watching. So if you are keen on bird watching, then do not miss the chance. The resort organizes guides at a very minimal cost to give you the best bird watching experience.
Learning of Sikkimese cuisines can be another adventure, which you can enjoy here. The farmhouse has expert chefs, who can give you a tutorial on-demand on the local cuisines in their own kitchen.
Although it is situated in Borong, all other important parts of Sikkim and nearby are well connected by roadways.
Ravangla – 16 km
Gangtok – 69 km
Pelling – 85 km
Siliguri – 130 km
Zuluk-  141 km
The pocket pinch will be as follows –
Standard room costs INR 2K + 5 % GST Per night per room for two.
Premium cottage costs INR 3350 + 5 % GST per night per room for two.
Deluxe room costs INR 3750 + 5 % per night per room for two.
Child below 5 years will be complimentary.
A child above 10 years will be treated as an adult.
Best time to visit:
October to November is considered the best time to visit this place. Weather remains chilly yet tolerable making it most enjoyable. Furthermore, you can enjoy various festivals portraying Sikkimese ethnicity via dance, song, food, handicraft items.
March to June is summertime here and best for witnessing the peaks of mountains without any hustle. If you are fond of snow, then December to February is your time to be here. Temperature goes down to -10 degrees Celsius.
Concluding Thoughts 
If you are looking for a few days of solitude in the hills, this place is a great option to explore. From the snow-capped peaks to great sightseeing options, from cozy homestays to swanky hotels you got everything here. Also, if you are a trekking enthusiast you can make this place as a base for a few great treks aswell.
Overall, from family holidays to trekking adventures Ravangla has got everything for everyone.